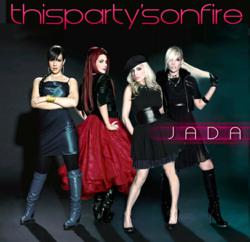 "I'm excited about Jada! They have a refreshing sound of feel good music that the music world needs right now. "This Party's On Fire" will make everyone want to dance," said Melissa of JAMN 94.5 FM Boston, Radio Personality for the Ramiro and Pebbles show
Boston, MA (PRWEB) October 04, 2011
Jada, Boston's popular female vocal group, releases a new song and music video for their latest single, This Party's On Fire, available now on iTunes. Jada's new single follows on the heels of their two Universal Motown releases – American Cowboy, produced by Akon and RedOne (Lady Gaga), and "Break Up Song", produced by Wayne Wilkins & Andrew Frampton (Britney Spears/Natasha Bedingfield).
The music video for "This Party's On Fire" has been selected by Fuse TV for their Fuse On Demand channel for the months of October and November and can be viewed on the Fuse TV official website.
This Party's On Fire, produced by RIO, features a dance floor spectacle of soulful vocals over soaring synth, strobe, bass and electric house beats. The song and music video are all about living in an over the top, larger than life world. The video, produced by director Vassili Shields of Boston, features the ladies of Jada performing across various Boston area locations ranging from James Joseph Salon, to the Ferrari/Maserati dealership of New England, all the way to the Boch Aviation Airplane Hangar.
"It was an incredible day that was definitely over the top! Our Facebook blast landed us lots of extras consisting of marching bands, baton twirlers, photographers, cheerleaders, and more bright pink pom-poms than we knew what to do with! We love the video, and we love the song, and we hope our fans will love them too," said Jacyn Tremblay of Jada.
The video features over 200+ extras, including the Norwood, MA High School marching band and color guard, two cheerleading teams (provided by "Melissa" of JAMN 94.5 FM Boston), and a special cameo appearance by Dr. John Meola from Dental Associates of New England, who starred as the pilot of the private jet.
"I'm excited about Jada! They have a refreshing sound of feel good music that the music world needs right now. "This Party's On Fire" will make everyone want to get up and dance," said Melissa of JAMN 94.5 FM, Radio Personality for the Ramiro and Pebbles Morning Show.
This year has already been busy for Jada. They performed live on FOX Providence's "The Rhode Show", sang at the 10th anniversary celebration for America's Camp (a one-week camp for children who lost a parent or sibling from the attacks on September 11), and performed on the season finale of BRAVO's Real Housewives of Atlanta. Jada has also been busy recording new songs with prominent producers such as Midi Mafia for the song, Anybody But You, and DJ/producer Joe Bermudez, who recently scored another #1 on the Billboard Dance Chart for the Chico Remix of Britney Spears' "I Wanna Go". Jada recently sang the National Anthem at the Boston Red Sox vs. New York Yankees game.
"The four members of Jada have some of the purest, most powerful, and effortless voices I've heard in a long time," says Maxwell MD/APD/Night Jock of WIOQ. "The bangin' party beat of their new single, "This Party's On Fire" is the 5th reason why I love Jada. The four other reasons are, Lauren, Jacyn, Elle, and April!
For more information about Jada and the making of "This Party's On Fire", visit: http://www.jadamusic.com/thispartysonfire
About Jada
Jada is a pop/R&B female vocal group from Boston, Massachusetts. They are known for their mix of pop, soul, dance, and R&B styling, and gospel-inspired harmonies. Through Universal Motown, Jada released their first major label single, American Cowboy (written and produced by Akon and RedOne). This was followed by their second major label single, Break Up Song (written and produced by Wayne Wilkins, Andrew Frampton, and Savan Kotecha). Jada's American Cowboy song aired on the Fox sitcom, "House" last year, while their song, "Model That", was featured on an episode of the MTV television show "The City". Jada has also shared the stage with The Black Eyed Peas, Akon, Ciara, Jesse McCartney, Flo Rida, Boyz II Men, Sean Kingston, All American Rejects and countless others.
Follow Jada on the web:
Official Website – http://www.jadamusic.com
Heart & Soul Blog – http://blog.jadamusic.com
Facebook – http://www.facebook.com/jadamusic
About Bristol Entertainment
Bristol Entertainment is an Artist Development/Management/Music Production Company located in the Back Bay in Boston, with studios in Worcester and Los Angeles. Bristol has a 25 year history of helping artists acquire the skills and tools necessary to achieve their goals in the music industry. Bristol's team has developed artists for Sony, DefJam/Mercury, Warner and Universal Records and has worked with many prominent producers and artists in the business including : The Dropkick Murphys, New Kids On The Block, Jada, Akon, Wyclef Jean, Yo Yo Ma, RedOne (Lady Gaga, Michael Jackson, Jada), Swizz Beatz (Jay-Z, Alicia Keys), JR Rotem (Rihanna, Jason DeRulo & Sean Kingston), and more. Learn more about Bristol Entertainment at bristolstudios.com.
###