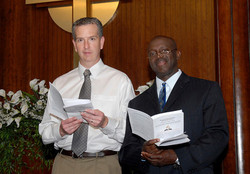 We are speaking about this [Prostate Cancer] together because we have gone through it together, and we fervently believe in the message
Philadelphia, PA (PRWEB) July 30, 2010
Lloyd Martin is on a mission of salvation. When he stands before men and women gathered in churches and other locations throughout the Delaware Valley, he speaks with the passion of a preacher intent on saving his flock. In this case, though, Martin is on a mission to save not souls, but lives.
Martin's message is simple but powerful: men need to pay attention to prostate cancer. Especially African-American men. He speaks from the gut about his own experience with the disease. He doesn't mince words or spare details. If he needs to scare people into going to a doctor and getting checked, so be it.
"I came face to face with my own mortality," Martin says. "I thought about my wife and sons, and the hardship my death would bring them. I thought about how we are enmeshed in a culture that doesn't talk about prostate cancer or go to doctors, and how stupid that is. I used to think if I got one man in an audience to get screened, I had done my job. Now I realize I need every man to get screened because I can't stand the thought of losing one more husband, father or breadwinner."
Martin's emotional testimony is balanced by equally passionate preaching from his doctor, urologist Jamison Jaffe, DO. The two have taken to the road to spread the word about why men need to discuss prostate cancer screening with their doctors.
"Prostate cancer affects one in six American men," Jaffe says. "More than 192,000 men were diagnosed with prostate cancer in 2009, and more than 27,000 died from the disease. A man dies from prostate cancer every 19 minutes. More African-American men will get prostate cancer than men of other races. African-American men are also more likely to be diagnosed at an advanced stage, and are more than twice as likely to die of prostate cancer as white men.
"Many of these deaths can be prevented if the disease is caught early," Jaffe continues. "The American Urological Association now recommends that men discuss screening with their doctors beginning at age 40, regardless of risk. If prostate cancer is found early, there are more treatment options and hope for a cure. Lloyd and I are speaking about this together because we have gone through it together, and we fervently believe in the message. We hope that by combining forces more men—and the women in their lives—will listen."
Jaffe's practice, Urologic Consultants of Southeastern Pennsylvania, includes physicians with extensive experience with prostate cancer and other urological disorders. Jaffe is director of minimally invasive urologic surgery and robotic surgery for Drexel University College of Medicine and Hahnemann University Hospital. He and his partner, Justin Harmon, DO, have extensive experience with robotic surgery, having completed fellowships under the direction of the French physician who pioneered minimally invasive urologic surgery. They were both named Top Docs by Philadelphia Magazine in 2010.
Lloyd Martin has written a book about his experiences with prostate cancer. To learn more about Martin and his book, visit http://www.lloydmartinpublications.com. To learn about Jaffe and Urologic Consultants or to schedule them for a speaking engagement, visit http://www.urologicconsultsepa.com or call 215-762-3200.
###