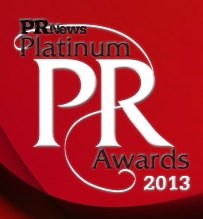 Jaffe PR was nominated in the same category as the teams representing Dunkin Donuts, Hormel Foods, Samsung and other nationally known brands
Washington, D.C. (PRWEB) October 25, 2013
Jaffe PR, the leading law firm public reputation agency, has received an "Honorable Mention" in the media relations category of the PR News Platinum PR Awards. The coveted awards set the industry benchmark for excellence across all areas of PR. Jaffe PR was recognized for its work associated with the office move announcement of law firm Young Conaway Stargatt & Taylor LLP.
"It is a huge victory for us just to be nominated and a bigger win to recognized," said Terry M. Isner, Managing Director of Creative, Marketing and Business Development at Jaffe PR. "Jaffe PR was nominated in the same category as the teams representing Dunkin Donuts, Hormel Foods, Samsung and other nationally known brands."
The creative campaign, which garnered press coverage in more than 241 legal, business and architecture news outlets, including national coverage in Reuters and MarketWatch, centered around Young Conway's move from a traditional office building to an iconic courthouse on Rodney Square in the heart of Wilmington, Del. While transforming the nearly 100-year-old structure—which had declined over nine years of vacancy—into 21st-century office space was a mammoth undertaking, the firm knew garnering significant press coverage and raising awareness among clients and prospects would also be a challenge.
To create excitement about the straightforward office move, Jaffe PR decided to tell the story of the restoration by creatively leveraging an assortment of multimedia, from videos, electronic invitations and custom artwork to classic children's toys, including a retro View-Master viewer and Etch-A-Sketch.
Platinum PR Awards set industry standards for excellence across all areas of PR. Winners are from corporations, agencies and nonprofits—both large and small—that take chances, make tremendous strides in their communications efforts and understand the power of public relations. Winners and honorable mentions of the coveted Platinum PR Awards were celebrated at a luncheon on October 15, 2013, at the Grand Hyatt in New York City.
About Jaffe PR
Jaffe PR is the only full-service PR and marketing agency devoted exclusively to the needs of business law firms. For more than 34 years, the award-winning Jaffe PR has represented many of the country's largest law firms, as well as smaller boutique firms and legal associations, assisting lawyers, business executives and marketing professionals with managing their public reputations. Jaffe PR's comprehensive consulting services include media relations, marketing and business development, creative services from branding to website design, and search engine optimization. Jaffe PR also provides other valued resources unique in the industry, including WritersForLawyers™ for all forms of content, LexSpeak™ for identifying and supporting speaking engagements, and RankingsForLawyers™ for navigating and capitalizing on rankings and lists. For more information visit: http://www.jaffepr.com