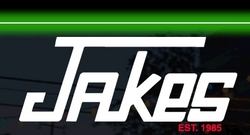 We still pride ourselves on serving the Dallas area's best burger and offering a family-friendly atmosphere.
Dallas, TX (PRWEB) July 16, 2010
Jakes Hamburgers (http://jakesburgers.net), the popular restaurant whose burgers were voted Best Burger by the Dallas Observer, celebrates its 25th anniversary this year.
With six restaurants in the Dallas-Ft. Worth Metroplex, Jake's has long been a destination for hungry patrons seeking a great hamburger. A seventh location is scheduled to open in Spring 2011.
"Jake's has been a favorite Dallas restaurant to burger lovers and guests of all ages, from the early days in Lake Highlands to today," co-owner Greg Garvey said.
"Twenty-five years is a big milestone for Jake's," co-owner Marty Garvey, Greg's brother, said. "We're honored to be part of a Texas tradition."
The Garvey brothers bought the original Jake's in 2002 and transformed it from a traditional counter-service and drive-through burger concept to a full-service restaurant. Guests can now enjoy a casual dine-in meal, a full bar, and more.
The Uptown location on McKinney Avenue was the first Jake's to feature a full-service restaurant. The concept soon spread to Plano, Addison, Main Street Fort Worth, and the newest location on Camp Bowie blvd in West Fort Worth.
Whether it's a perennial favorite like the Jake's Special or an up-and-comer like the Cheddar Steer, the quest for the best Dallas hamburger, as every Texan knows, begins with the beef. The burger patties at Jake's come from a local Fort Worth purveyor, Bar-W Meat Co., made with beef that's ground freshly daily and never frozen.
Jake's burgers feature unique poppy seed buns that are baked fresh daily in a local bakery and delivered each morning.
Almost as popular as the famous burgers are Jake's mouth-watering sides. The crinkle-cut sweet-potato fries are a popular new menu addition. Old favorites like fried pickle chips, cheddar cheese fries, and Jake's Jalapeno Bottle Caps are among the top crowd pleasers.
Jakes has evolved since opening in 1985, but one thing remains the same:
"We still pride ourselves on serving the Dallas area's best burger and offering a family-friendly atmosphere," said co-owner Greg Garvey.
Jake's Hamburgers and other Dallas restaurants can be found at 360dallas.com, a comprehensive visual directory offering virtual tours of Dallas businesses.
Joe Shaw
512-736-0875
###