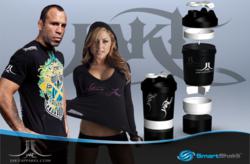 "The Smartshake Corporate team and I felt that with the current mass popularity of MMA and UFC, this was the next step in the growth and expansion of Smartshake, displaying its diversity and versatility to other specific sports." says Nancy Di Nino
Toronto Canada (PRWEB) November 22, 2011
Smartshake, "The Worlds Smartest Shaker" is shaking things up as it enters the world of MMA with Jakt Apparel Signature Shaker.
JAKT apparel is a Canadian based lifestyle clothing brand known for sponsoring many UFC fighters such as Wanderlei Silva, Jake Shields, Jonathon Brookins, Brian Ebersole as well as others, not to mention UFC Octagon Girl Brittney Palmer. Their unique style has made them one of the fastest growing brands in Canada. The JAKT Shaker cup will be a perfect fit allowing for fighters to use it for pre/post workout and fight supplements not to mention a great storage compartment for their personal mouth guards. Look for your top UFC Fighters to be carrying their Jakt Apparel/Smartshake shaker cups.
Canadian Spokesmodel/Marketing Liaison Nancy Di Nino and the Smartshake Corporate team felt that with the current mass popularity of MMA and UFC, this was the next step in the growth and expansion of Smartshake, displaying its diversity and versatility to other specific sports.
"We are very proud to expand our brand with this amazing product. Its uniqueness and quality was what really attracted us to it. Together we look to expand each brand into the Fitness and MMA markets to offer unique products like the Smartshake cups. Keep an eye out for more big things to come" says Marc Fowles, Jakt Brand Founder & CEO.
Based out of Sweden, Smartshake is not only known for their high quality craftsmanship but also the ability to carry 3 shakers in 1. Smartshake is known for their signature shakers from the world's top Bodybuilding and Fitness athletes including the current reigning Mr. Olympia Phil Heath and 4x Mr. Olympia Jay Cutler; now expanding their brand with JAKT apparel and their roster of UFC Fighters.
Visit Smartshake Canada at facebook.com/smartshakecanada for inquiries and product information.
###