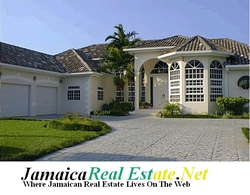 And we are pleased that our website can provide this data easily for investors at the click of a button.
Kingston, Jamaica (PRWEB) December 2, 2008
With the US stock market showing no immediate signs of yielding in volatility, bearish investors have been selling into daily market rallies and investing in overseas real estate as a safe haven. Earlier this year the Association of Foreign Investors in Real Estate (AFIRE) a nonprofit research association listed the top ten places to invest in property globally and though Jamaica was not one of them, property investors in the island have been realizing excellent returns on purchasing Jamaica real estate over the last decade.
"The capitalization rate on Jamaica property is phenomenal," says Colin Scott VP of Special Projects for Jamaica Real Estate.Net. "Take for instance the recent Richmond Development in the parish of St. Ann. A 5,000 square foot lot goes for $195,000, an average of $39 per square foot. Projected net rental income is approximately $1,500 monthly or $18,000 per annum. This means that you can earn $3.60 yearly per square foot on one lot, that's an impressive 9.23% return on your investment!" Scott said. Speaking on the aspect of capital appreciation Scott cited that the property values in Jamaica rivaled those in popular US states of New York and Washington. The main reason was that though the CAP improved on properties in these state as the market value decreased net earnings were being eroded due to the plummeting resale value.
While AFIRE never listed Jamaica property as prime global real estate investment, the numbers show that it yields a much higher return per annum than even popular Shanghai and Tokyo real estate. But as the demand for real estate in Jamaica reaches fever pitch, many investors just cannot locate the right buy in the market. This is where Jamaica-Real-Estate.Net comes in; the website provides access to a database of over 2,000 Jamaican properties listed online and has regularly updated articles on how to purchase property on the island, the taxes levied, mortgage options and how to divest the asset.
"Naturally, I am excited about the prospect of Jamaica becoming a haven for investors," says Scott "And we are pleased that our website can provide this data easily for investors at the click of a button." What has proven to be more beneficial to foreign investors is the easy access to conventional mortgage loans from Jamaican lending companies and hence investors can transact all business on the island without fear of cross border hindrances.
About Jamaica-Real-Estate.Net :
Jamaica-Real-Estate.Net is a member of the GetJamaica.Com network of websites and focuses on Jamaica property sales. The website is a resource for all types of real estate, ranging from residential to commercial property.
###