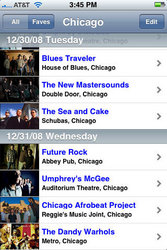 best music apps to pimp your iPhone with
San Francisco, CA (PRWEB) February 24, 2009
JamBase, the largest database of show listings and ticket information, announced today the availability of its free iPhone™ application. Recently hailed by Rolling Stone as one of the "best music apps to pimp your iPhone with," the new application delivers to the on-the-go music fan mobile access to its database of 70,000 live show listings. The JamBase iPhone Application is available for free from the iTunes® Application Store at: http://jambase.com/iphone/app .
"Ten years ago when I founded JamBase it was in response to a need, as a fan, to get information about the concerts I wanted to go see," said Andy Gadiel, president and founder of JamBase. "Today delivering the information music fans want about artists and show listings needs to accommodate their lifestyles and be available wherever they are. Launching our first mobile application via the iPhone allows us to extend the reach of the JamBase database of live music listings by literally putting it in the hands of music fans."
The JamBase iPhone Application gives music fans the ability from their iPhone and iPod® Touch to determine what concerts or shows are playing in their vicinity. Either by a provided zip code or by using iPhone built-in GPS to pinpoint their location, the JamBase iPhone Application displays a list of upcoming shows taking place near where the fan is located. In addition, if the fan has created a "My JamBase" profile, the application will automatically filter the listings to include only their favorite artists or bands.
The is powered by the JamBase database which combines member-contributed information along with data received from thousands of music industry partners such as booking agencies, venues and record labels; and features:

50,000 artists ranging from independent musicians to mainstream performers
70,000 listings for music venues worldwide
50 genres including rock, funk, country, jazz, hip-hop and more
30 percent of content is fan-contributed
Live person data controls - no content crawlers or bots for discovering information
"JamBase has transformed the way individuals access concert listing--delivering robust, reliable and up-to-date information--and now with the makes it even more convenient for the fan to access the information they need to go see live music," shares Gadiel. "The innovation and versatility of the iPhone technology has the JamBase development team already brimming with great ideas for future enhancements."
About JamBase:
Established in 1998, JamBase is the premier website for fans of live music. By providing the largest database of show listings and ticket information, authoritative content, community, and personalization tools for fans, JamBase connects music fans with the music they love and empowers them to go see live music. Originally founded by fans for fans, JamBase quickly evolved to serve not only devoted music enthusiasts, but all lovers of live music, while providing a platform for musicians to be discovered. Today, more than a half million people participate in the JamBase community every month and rely on the website to find the most accurate show listings available for 50,000 artists across 50 genres, performing in 70,000 venues worldwide. JamBase is headquartered in San Francisco and on the Web at http://www.jambase.com .
###