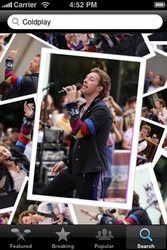 Whether you follow the cast of Gossip Girl or want the latest pics of Coldplay, JAMD Mobile encourages engagement with the images that mean the most to you
SEATTLE (PRWEB) July 10, 2008
"Whether you follow the cast of Gossip Girl or want the latest pics of Coldplay, JAMD Mobile encourages engagement with the images that mean the most to you," said Bruce Livingstone, senior vice president, Consumer Division, Getty Images. "We're delighted to use the global reach of the Apple App Store to offer our JAMD Mobile application to iPhone and iPod touch users."
Leveraging the iPhone's innovative Multi-Touch user interface, JAMD Mobile replicates the personal connection that people used to feel with their treasured collections of hand-chosen and carefully displayed pictures or their teenage walls papered in posters torn from the pages of magazines. JAMD Mobile satisfies the celeb follower's needs to keep up with the latest news and imagery of favorite TV and film stars, bands or sports teams. JAMD Mobile also enables users to manipulate images onscreen in a variety of ways and email professional, high quality images to friends around the world.
Typical entertainment sites can only offer fans a few snapshots of their favorite celebrities, often from a movie premiere or sports event. JAMD Mobile delivers hundreds of the best pictures from events like these, from the world's best photographers. Thousands of new images are added to its collection daily, making it rich and expansive. Fans can get a real-time celebrity photo fix while restoring the personal connection and tactile satisfaction of picking up, choosing, arranging and sharing something tangible with friends.
JAMD Mobile will be available for free from Apple's App Store on iPhone and iPod touch or at http://www.itunes.com/appstore.
JAMD Mobile in Action
JAMD Mobile will initially offer three image feed choices as well as a search function. Users can choose to view "Featured News," "Breaking News," or "Most Popular" images and news items. They can also use the search feature for particular personalities, world events or sports passions. The results are multiple images that can be played with, discovered and thumbed-through interactively. Users can pinch, stretch, swipe, stack, sort, or e-mail them to friends. Future features of JAMD Mobile will include building customized stacks, creating favorites and more.
JAMD Mobile was created by the developers of http://www.JAMD.com, Getty Images' consumer Web site. JAMD.com was designed for the many millions of people visiting Getty Images who are interested in viewing photos featuring their favorite personalities and news figures. JAMD.com membership is not required in order to use JAMD Mobile, but those who do join will get early access to new features as they are added.
Licensing Opportunities
The content and technology of JAMD and JAMD Mobile are available for licensing, adding rich photographic content to many online ventures. For more information, please contact Catherine Gluckstein at feedback@jamd.com.
About Getty Images
Getty Images is the world's leading creator and distributor of still imagery, footage and multimedia products, as well as a recognized provider of other forms of premium digital content, including music. Getty Images serves business customers in more than 100 countries and is the first place creative and media professionals turn to discover purchase and manage images and other digital content. Its award-winning photographers and imagery help customers produce inspiring work which appears every day in the world's most influential newspapers, magazines, advertising campaigns, films, television programs, books and Web sites. Visit Getty Images at http://www.gettyimages.com to learn more about how the company is advancing the unique role of digital media in communications and business, and enabling creative ideas to come to life.
MULTIMEDIA GALLERY http://www.businesswire.com/cgi-bin/mmg.cgi?eid=5728460