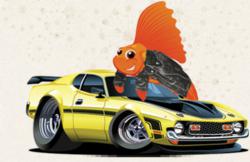 The ocean is like another planet, and to have explored the deepest depths of it… now that is incredibly commendable and so unbelievably brave.
New York, NY (PRWEB) March 26, 2012
RoadFish.com men's lifestyle and finance magazine today praised Hollywood director James Cameron for his latest undertaking: not a top-grossing film, but a solo dive into the 7-mile deep Mariana Trench. Cameron is only the third human being ever to reach such ocean depths, and the very first to have done so alone.
Ker Than of the National Geographic reported that Cameron reached the bottom of the 35,756 foot deep Mariana Trench yesterday at 5:52 p.m. ET. His descent to the deepest part of the trench, known as the Challenger Deep, lasted 2 hours and 36 minutes. Upon his landing, Cameron reportedly typed to the National Geographic crew on research vessels Mermaid Sapphire and Barakuda at the surface, "All systems OK." The Mariana Trench is located in the Pacific ocean, 200 miles southwest of Guam. University of Texas marine geologist Robert Stern stated, "Challenger Deep is the deepest cut into solid Earth, and this gives us a chance to see deeper into Earth than anywhere else."
According to the National Geographic article, Cameron is collecting data, samples and specimen at deep-sea depths. He claimed that he hoped to find some sort of life within the trench. He stated before the dive, "If we get lucky, we should find something like a cold seep, where we might find tube worms." A cold seep is explained to be a fissure in the ocean floor where geothermally heated water is being pushed out of the earth's core, heating the surrounding water.
RoadFish.com's Senior staff writer is quoted as saying, "I actually had no idea that Cameron was such a diving enthusiast. What an incredible life he has lived, to have seen things unimaginable to so many of us. The ocean is like another planet, and to have explored the deepest depths of it… now that is incredibly commendable and so unbelievably brave."
The Huffington Post published a quote from Terry Garcia, National Geographic Society's executive Vice President for mission programs, stating, "It's really the first time that human eyes have had an opportunity to gaze upon what is a very alien landscape. He is going to be seeing something that none of us have ever seen before. He is going to be opening new worlds to scientists."
The Huffington Post article goes on to say that Cameron has been an "oceanography enthusiastic" since he was a child. His latest Mariana Trench expedition marks his 72nd submersible sea dive. Half of Cameron's undersea voyages have been to visit the ruins of the Titanic, the infamous cruise liner that went on to become the subject of his 1997 blockbuster 1997 of the same name.
RoadFish.com is very excited to read about and see the results of Cameron's latest dive. RoadFish.com's Senior staff writer stated, "I know it's a long shot, but it would just be so out-of-this-world amazing if [Cameron] actually found significant life down there. My imagination is running wild—big, crazy looking sea creatures of the deep. But seriously, some fish would be incredible."
The first (and only other) dive to the bottom of the Mariana Trench was performed in 1960 by Swiss engineer Jacques Piccard and U.S. Navy Captain Don Walsh. It took the men five hours to reach the bottom, and they stayed for only 20 minutes. The men did not have much to report from their expedition due to the large quantities of sand that their submarine stirred up.
About RoadFish.com
RoadFish.com is an online men's lifestyle and finance magazine targeted toward men in their 30's and 40's that have already attained a moderate level of success in life, and are striving toward more. It goes over current events of interest to this group, such things as exciting adventures, making money, consumer interests, hot chicks, and property tax as well as ways to make more and save more money. It is a publication owned by Purpose Inc.
###