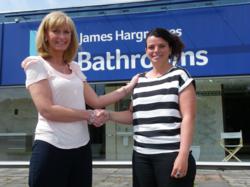 Winning the competition was cool, but to then be offered a role doing exactly what I love is simply fantastic
Burnley, Lancashire (PRWEB UK) 29 June 2013
Donna thought she had exceeded all expectations by coming tops in a recent "Bath to the Future" design competition instigated and sponsored by James Hargreaves Bathrooms.
But her £500 winning prize proved to be just the start…
"Winning the competition was cool, but to then be offered a role doing exactly what I love is simply fantastic," said the mother-of-one, who lives in Burnley and recently completed a BA (Hons) Interior Design degree at UCLan.
"When James Hargreaves Bathrooms rang to ask if I would be interested in working for them I could hardly believe my luck – who says dreams can't come true?"
"It is a wonderful opportunity for me and little did I think on entering the competition that I would end up with such a great opportunity job."
Earlier this year, Donna took the honours in the conceptual section of the prestigious competition, with an idea based around Sir Ian McKellen, the world famous actor who also hails from Burnley.
Her entry centred on 'Magneto', the superhero X-Men film character played by McKellen.
"I decided to go for an extreme character with a strong local connection and if I am ever lucky enough to meet Sir Ian then I must thank him for being my inspiration!" she added.
Michelle Leadbetter, senior showroom manager at James Hargreaves Bathrooms, said: "We are all thrilled by the outcome and to have Donna on board is very exciting. She really impressed us, not just with her eye-catching entry, but also her flair and determination; qualities we hope will help give us a vital edge in the months and years ahead."

Donna has another challenge ahead after agreeing to take part in the National Three Peaks later this month - all her proceeds going to the Pendleside Hospice.
More about James Hargreaves Bathrooms:
James Hargreaves Bathrooms has earned a strong reputation with customers across the North of England and also has luxury showrooms in Blackburn, Halifax, Hull, Sheffield and Stockton-on-Tees.