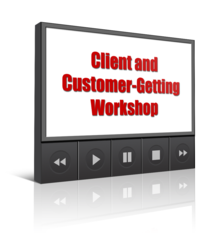 Finding customers has grown significantly more complicated over the last decade. There are more marketing channels, and more marketing messages vying for potential customers' attention
London, UK (PRWEB) July 03, 2012
Small business marketing consultant James Noble today announced his celebration of entrepreneurship around the world with an exclusive offer in honor of Independence Day.
Mr Noble is offering a time-limited 50% discount on his popular "Customer Getting Workshop" this week, which he hopes will give entrepreneurs a helping hand in achieving success with their businesses.
The training is based on James' extensive experience building and advising small and medium-sized businesses over the last 10 years.
Commenting on the workshop, James Noble said, "Finding customers has grown significantly more complicated over the last decade. There are more marketing channels, and more marketing messages vying for potential customers' attention."
"Entrepreneurs and business-owners are lost in a sea of information and advice, not knowing which methods are worth investing money and - more importantly - time in."
The workshop is video-based training, which covers action-focused guides for both fast and long-term customer-acquisition strategies. Also included is practical advice about how best to implement these strategies, so business-owners can put them into effective action right away.
When asked about the reasons behind his campaign, James said:
"Since the signing of the Declaration of Independence on July 4th 1776, the United States has gone from strength to strength as the rights to equality, life, freedom and happiness have allowed American citizens the chance to grow, create and develop in their lives, and this has inspired countless others around the world to do the same."
"Entrepreneurs and small businesses are the perfect example of this," he went on to explain. "It's a brave, bold and independent move making that decision to strike out into business on your own, so I am honoring that motivation by offering some additional support to entrepreneurs and small businesses."
Availability
The discount is available only until Friday 6th July 2012 and is available at James Noble's website: http://www.jamestnoble.com/customer-getting-workshop-special/
About the Workshop
The training includes:
-- Workshop 1: "Fast Client-Getting" How to start attracting new customers right away
-- Workshop 2: "Long-Term Client-Getting" Longer-term strategies ensuring the new customer streams continue without the involvement of the business-owner.
-- 60 days of personal email support with James Noble
-- Step-By-Step Plans to facilitate fast deployment of the strategies
-- Resources, templates and 'sample' text for use by the business-owner
About James Noble
James T Noble has helped some of the world's largest brands and companies market their products and services online, including Virgin, Walt Disney Corporation, Coca Cola, Paramount Pictures and many others.
James lives in the UK and works with small business owners worldwide to accelerate their growth through effective online marketing.