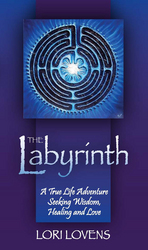 James Ray boasted to his inner circle that he refused to evacuate during the Southern CA fires in 2007 and told his staff to just focus their attention on being loved and protected. After the sweat lodge tragedy this appears to be an ominous warning sign.
Chicago, IL (PRWEB) March 16, 2011
With testimony underway in James Ray's trial, where he is accused in the deaths of three followers in a Sedona sweat lodge in 2009, a newly released book, "The Labyrinth," illuminates the dynamism and nuances of his potent personality and the escalating volatility that fueled his spectacular rise and fall from the self-proclaimed "Rock Star of Spirituality" to manslaughter charges and a jail cell. (State of Arizona vs. James A. Ray, V1300-CR201080049)
In the book, which chronicles her own personal and spiritual growth in the face of Ray's increasingly alienating behavior, author/entrepreneur Lori Lovens of Chicago has a front row seat to the decline of a man who was at one time a leading light of the personal growth movement. A handsome, fit, former competitive bodybuilder, James Ray was dynamic and youthful. Groomed by powerful mentors such as Stephen Covey, Tony Robbins, Bob Proctor and Bill Gove, he was a masterful public speaker and one of the stars of the global film and book sensation, "The Secret."
Attracted by his inspiring message and charismatic personality, Lovens spent more than two years immersed in the teachings and live events of James Ray and was one of only six people who were members of both his pre-Oprah inner circle, Messengers of the Light, and his subsequent World Wealth Society. From within the inner circle of this compelling teacher, Lovens witnessed his stunning outbursts of rage and his desperation to succeed before the media attention generated by his appearance in "The Secret" flamed out.
The story conveys his extraordinary talents and the healing experiences James Ray was capable of offering before his obsession with power and wealth began diminishing his focus on his students' growth. Lovens, who is frank about her own personal challenges and willingness to be led by this once-inspiring man, vividly demonstrates how she lost faith as she became increasingly aware of Ray's brilliantly disguised methods of "marketing hope while selling fear," leading students to trust one of The Secret's most prominent teachers more than they trusted themselves.
"My intention with "The Labyrinth" is to share the insights and understanding I gained on my journey," says Lovens. "I want to encourage others to reclaim their power and listen to their inner wisdom, rather than follow someone who claims to have all the answers. Sadly, James Ray's fate was of his own making, and the ultimate trajectory is clearly visible in "The Labyrinth."
"Fortunately, James Ray is not indicative of the entire personal growth industry. There are wonderful teachers, coaches and mentors who share their wisdom to help others discover their own truth."
Lori Lovens is an entrepreneur and Innovation Coach. After earning her MBA from The University of Michigan, Lovens led marketing and innovation teams for some of the world's biggest brands: Gatorade, Finesse, Degree and Wilson Sporting Goods. Lovens was granted a design patent for a new bottle she helped create for Gatorade. An innovator at heart, she is passionate about learning, growing and sharing her understanding of the how's and why's of the creative process. Integrating her innovation expertise and her passion for personal growth, Lovens has created a powerful process for personal transformation, Innovate Your Life!™. For more information, or to download a press kit, please visit http://www.LoriLovens.com/media.
The Labyrinth is available on Amazon.com, $15.00 for Paperback and $9.99 for Ebook.
###