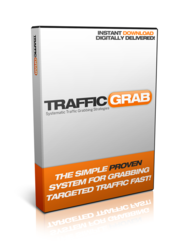 Any business that follows the TrafficGrab system will make more money online.....it is an anti-hype, anti-theory model
Sydney, Australia (Vocus/PRWEB) April 15, 2011
With the launch today of his much-anticipated new product, 'TrafficGrab', online entrepreneur James Schramko has set a new standard in the provision of results-based resources for online business. He has combined innovative and affordable pricing, with systematic strategies that show how to get traffic to your website -- strategies that are tested and proven to work.
What is a Traffic Grab?
For online businesses, regardless of their niche or size, traffic is their oxygen - they cannot survive without it. According to Schramko, however, a traffic grab is much more than sending traffic to a website.
Understanding the strategies that will deliver targeted traffic, and, more importantly, knowing which resources to use to efficiently implement those strategies, are central to a traffic grab.
Schramko has proven that there are six key components to a great traffic grabbing strategy, and he has created a module for each of them within Traffic Grab:

Excellent Research
Appropriate Content
The Right Website
Traffic Strategies
High Conversions
Leverage
James Schramko's TrafficGrab
Shramko's Traffic Grab has been much-anticipated by the online business community as he is acknowledged as one of just a handful of internet business professionals who are true innovators. He admits that creating TrafficGrab took longer than anticipated, but makes no apology for it. In the process he has gone deeper into each strategy, including showing where users can get help if needed.
"Any business that follows the TrafficGrab system will make more money online." he said. "I have based TrafficGrab on fact, not theory - it is an anti-hype, anti-theory model."
Departure From Tradition
Schramko believes that, in the past, many within the internet marketing industry have produced over-priced and low-value products. As a result people have been disappointed with their purchases, and unsuccessful in their attempts to break into the online business world. With TrafficGrab he hopes to make it easier for as many people as possible to get started, to correct what they are doing wrong, or to leverage what they are doing right.
How he has done this though has shocked others in the industry. TrafficGrab is comprised of 6 very detailed modules - and he has made the first three available at absolutely no charge: no commitment, and amazingly, no opt-in required.
What's more the three paid modules cost less than a hundred dollars.
For a comprehensive James Schramko product, this type of pricing is unprecedented. But, as he explains "I believe it is time for a fair-go for online businesses. Especially in these times, I want to deliver a high-end product that is proven to work, at an affordable price."
"My clients and students know that I am with them for the long term, and that I stand behind every product I bring to them. TrafficGrab will be a key weapon in their internet marketing arsenal."
More information is available at TrafficGrab.com.
About TrafficGrab
TrafficGrab is a proven traffic generation system created by internet entrepreneur James Schramko. It is a powerful proven system for getting targeted traffic, fast. Comprised of six comprehensive modules, it is supported by documentary evidence of results and detailed case studies.
About James Schramko
James Schramko is a Sydney based Internet Marketer who fired his boss in May 2008. Since then his internet marketing business has grown exponentially. James has not just mastered the essential skills you need to be a success on the internet, but he is applying them in innovative ways that have skyrocketed him to international renown.
James continues to developed his suite information products and automated profit systems that are in demand by the top internet marketers around the world (they now call him for advice!). In so doing he indulges his passion for product development and innovation, and mentoring students in high-level and ethical internet marketing.
# # #