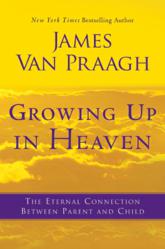 He has changed people's lives, banished the fear of death, and brought grieving parents the solace of their dead children's presence. . . It is impossible not to be moved.
- Newsweek
San Francisco, CA (PRWEB) May 18, 2011
New York Times bestselling author of Unfinished Business and Ghosts Among Us and world famous medium James Van Praagh brings to light the amazing journey of children who have passed from earth to heaven. GROWING UP IN HEAVEN follows the path of a child's soul – their time spent in heaven and their connection to the living.
Blessed with an exceptional gift, James Van Praagh has the ability to bridge the gap between this world and the next. Based on nearly thirty years of spirit communication, this renowned and beloved medium takes us on a powerful, eye-opening and ultimately inspiring voyage. Filled with incredible and uplifting true stories and profound messages of love, this astounding look at heaven provides a remarkably detailed portrayal of the child's soul as it moves from this world to the next. Our eyes and hearts open and we experience first-hand the unbreakable bond between parent and child, all the while glimpsing a vision of heaven.
In this his most moving work, Van Praagh reveals the reality that love transcends the physical and material planes of this world. GROWING UP IN HEAVEN lifts our spirits with the knowledge that our departed ones will always be with us – an extraordinary gift for all of us who yearn to understand life on the other side.
Growing Up in Heaven Schedule:
New York Week of May 25th
Los Angeles June 1st and ongoing
Phoenix June 2nd
Chicago TBD
JAMES VAN PRAAGH is the New York Times bestselling author of Ghosts Among Us and Unfinished Business. Through the years his message of hope has touched a great many more people due to his television appearances on such shows as Oprah, Larry King Live, Dr. Phil, The View, A&E Biography, 20/20, and 48 Hours. His unique paranormal experiences during the past twenty-five years have led him to author best-selling books, conduct seminars to sold-out audiences worldwide, and produce several successful television projects. Visit the author online at http://www.vanpraagh.com.
"He helps a lot of people. He really is a healer. I think he's basically on this earth right now at this time and place to heal. He is the real thing. I can't tell you how many times he's been right with me." — Shirley MacLaine
"He has changed people's lives, banished the fear of death, and brought grieving parents the solace of their dead children's presence. . . .It is impossible not to be moved." — Newsweek
GROWING UP IN HEAVEN
The Eternal Connection Between Parent and Child
By James Van Praagh
HarperOne, an Imprint of HarperCollins Publishers
May 24, 2011 | Hardcover | $25.99 | ISBN 9780062024633
###