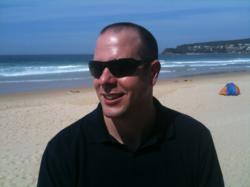 We want to change what people have grown accustomed to in the past decade and that is internet marketing products made available for $2000 US or more. In many cases, the investment made far exceeds the value of what they're getting out of these courses
Sydney, Australia (PRWEB) October 06, 2011
Following the successful launch of Traffic Grab mid-April of 2011, James Schramko has made the targeted traffic course available on http://www.buywithbonus.com/. The controversial release of this product created headlines across the internet marketing space, as Schramko decided to make the course available at an almost unbelievably low price. At a mere $79, the 9-hour long course comes in high quality video formats compatible with all types of computers, as well as most modern portable devices.
"Everyone should be able to afford it. We want to change what people have grown accustomed to in the past decade and that is internet marketing products made available for $2000 US or more. In many cases, the investment made far exceeds the value of what they're getting out of these courses. People have in turn become skeptical of every IM product on the market which is a major cause of discouragement for newcomers to the internet marketing space. It is time for change," said Schramko.
Now one of the most sought-after internet marketing coaches in the world, Sydney-based Schramko officially started his online business in 2008 after leaving a high-paying corporate job.
Traffic Grab, formerly referred to as the Traffic Cheat Sheet, is the result of years of testing and research dating all the way back to 2006. It has been updated to match current developments on World Wide Web by a team of testers and developers, hand-picked and personally trained by James Schramko.
The entire Traffic Grab course is laid out in a huge mind map dubbed the "Spaghetti Bowl" by Schramko's development team. Subscribers gain access to the mind map, explained in detail throughout the 6 main modules.
Videos are available in streaming and downloadable mp4 formats, complete with a 300-plus-page PDF transcription, mp3 audio of all modules, PDF of all slides used in the presentation, and more.
"We've added a complementary bonus for those opting to subscribe through BuyWithBonus. I hope you enjoy the course as much as I have enjoyed creating it. I look forward to learning of your success. Cheers!" -James Schramko
(See http://www.buywithbonus.com/ for details on James Schramko's Traffic Grab)
About BuyWithBonus
James Schramko's catalog of preferred and trusted internet marketing tools and products. With literally thousands of tools from various developers to choose from on the World Wide Web, the products on BuyWithBonus represent the bulk of tools tested and used regularly by the SuperFastBusiness team.
About James Schramko
Former General Manager of a Mercedes-Benz dealership in Sydney, Australia, Schramko started SuperfastBusiness 6 years ago. James has since become one of the most sought-after Internet Marketing Coaches in the world. Author of the tremendously successful Traffic Grab as well as the FastWebFormula live event series, James provides search engine optimization services to hundreds of clients around the world.
###