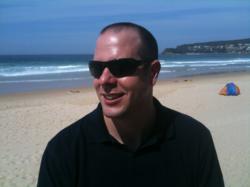 The best copywriter for your business is often you. All you need is a guide to avoid common pitfalls.
Sydney, Australia (PRWEB) October 04, 2011
The Ultimate Ad Set - a do-it-yourself guide to constructing powerful ad campaigns - is now available on James Schramko's BuyWithBonus.
(see http://www.buywithbonus.com/conversions/ultimate-ad-set-review-business-copywriter/ for details)
The guide presents various proven concepts that have been used in the news industry to create a strong presence for brands. Schramko says finding the balance between cost cutting and spending is of utmost importance. He explains: "There's a common misconception that cutting costs will somehow bring in more profit. Often this results in underexposure and lack of visibility to potential consumers. Others, however, tend to do the opposite by hiring professionals and spending a fortune on professional copywriters to do their advertising for them. In some cases this may work though I've seen many cases where hiring an outside professional was a costly mistake."
According to Schramko, a large percentage of business owners create ads only to be ignored. He says: "A prospect is faced with hundreds if not thousands of ads on a monthly basis - so often in fact that they become wary of hype and common tactics that advertisers use, it becomes increasingly difficult to get through to them without the proper know-how."
"Professional copywriters may know the secrets to getting through to consumers and sometimes the best copywriter for a business is one that is knowledgeable on the inner workings of any given business - in other words, the owner himself."
According to the author of The Ultimate Ad Set this is a guide for business owners with the initiative to take things into their own hands, coupled with instructions on how to write powerful copy and get big results from even the smallest ad campaigns.
"The best copywriter for your business is often you. All you need is a guide to avoid common pitfalls. I have reviewed The Ultimate Ad Set - it provides sound, proven concepts on how to dramatically increase your sales through correct advertisement campaigns." -James Schramko
The Ultimate Ad Set is now available on http://www.BuyWithBonus.com
About BuyWithBonus
James Schramko's catalog of preferred and trusted internet marketing tools and products. With literally thousands of tools from various developers to choose from on the World Wide Web, the products on BuyWithBonus represent the bulk of tools tested and used regularly by the SuperFastBusiness team.
###