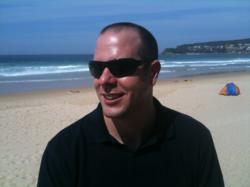 I want the best results for my business and that of my clients'. Blogging Underground is one resource I consider to be truly worthwhile
Sydney, Australia (PRWEB) October 13, 2011
Internet marketing expert, James Schramko, has recently put up a Blogging Underground Review – a vital link building network used to drive targeted traffic to websites. The service has been around for years and has become one of the preferred tools used by Schramko's own SEO team. A short review detailing some of the powerful features of the service is now available on BuyWithBonus.
Blogging Underground membership can now be purchased on BuyWithBonus -subscribers will get an exclusive Blogging Underground Bonus – receivable upon purchase.
A vast underground network
According to Schramko, professional Internet marketers looking to kick-start their SEO for targeted keyword phrases will benefit from Blogging Underground's vast network consisting of nearly 500 blogs in just about every category.
"My SEO team uses this service for my own websites, as well as for clients'. Blogging Underground is one of the few tools I would recommend without hesitation. That's how good it is. You can get fresh inbound links from high quality blogs within the network, instantly. Plus the interface is very easy to navigate," says Schramko.
Vital for SEO
Link building is a vital part of search engine optimization. In a nutshell, in order to achieve top search engine placements, one must set up a website with ample inbound links from other relevant websites on the internet.
"I want the best results for my business and that of my clients'. Blogging Underground is one resource I consider to be truly worthwhile. Building this type of service takes years and a huge amount of capital. For the quality of the service it provides, you will find it reasonably priced." –James Schramko
Check out the full Blogging Underground Review on James Schramko's BuyWithBonus.com
About BuyWithBonus
James Schramko's catalog of preferred and trusted internet marketing tools and products. With literally thousands of tools from various developers to choose from on the World Wide Web, the products on BuyWithBonus represent the bulk of tools tested and used regularly by the SuperFastBusiness team.
About James Schramko
Schramko started SuperfastBusiness 6 years ago. James has since become one of the most sought-after Internet Marketing Coaches in the world. Author of the tremendously successful Traffic Grab as well as the FastWebFormula live event series, James provides search engine optimization services to hundreds of clients around the world.
# # #