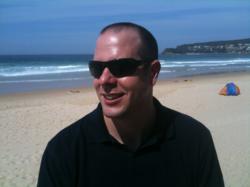 Diversity is important when it comes to marketing online. People have varying preferences when it comes to content available on the internet and it is important to cater to each of those preferences to maximize your online visibility
Sydney, Australia (PRWEB) October 07, 2011
Internet marketing is evolving and it is important to stay up-to-date with current trends and best practices. For this purpose, acclaimed internet marketing expert from Australia, James Schramko, provides powerful online marketing tips and tricks on his blog http://www.InternetMarketingSpeed.com. His most recent guest, Gideon Shalwick, is a world renowned video blogger and expert on video content creation. The 47-minute interview, hosted by James Schramko, takes listeners through Shalwick's own video monetization process.
(Full interview is available as audio podcast on http://www.internetmarketingspeed.com/how-to/gideon-shalwick-reveals-video-creation-and-youtube-traffic-techniques/)
Schramko says "Diversity is important when it comes to marketing online. People have varying preferences when it comes to content available on the internet and it is important to cater to each of those preferences to maximize your online visibility. Our guest expert is Gideon Shalwick who will take us through his own video creation techniques and the various methods on how to drive targeted traffic to your websites."
Video marketing does not come without strict rules to follow. YouTube, which is owned by Google, strictly monitors the content uploaded on their video submission sites. Shalwick, who has built his authority with years of experience, provides insights on the best practices when it comes to dealing with YouTube; revealing pitfalls unknown to many that may result in content flagged and banned by Google.
One of Gideon's clients and friend is now enjoying massive success on YouTube. His channel, FreeMagicLive has now garnered a total of over 12.5 million views with Shalwick's help.
The interview also reveals additional content formats that Gideon uses along with the video and explains his process step-by-step.
"Your aim is to monetize the videos you upload to YouTube. Gideon's system is proven to get results and reveals it all on his product called Rapid Video Blogging. Marketers wishing to know more about this system can get a sneak preview of it in the interview I have posted on Internet Marketing Speed." –James Schramko
The full Schramko – Shalwick interview available in streaming podcast and downloadable audio format on http://www.internetmarketingspeed.com/how-to/gideon-shalwick-reveals-video-creation-and-youtube-traffic-techniques/
About Internet Marketing Speed
James Schramko's internet marketing blog which covers a wide range of topics about modern online marketing strategies. Updated on a regular basis, James often enjoys interaction with many of his followers around the globe.
About James Schramko
Schramko started SuperfastBusiness 6 years ago. James has since become one of the most sought-after Internet Marketing Coaches in the world. Author of the tremendously successful Traffic Grab as well as the FastWebFormula live event series, James provides search engine optimization services to hundreds of clients around the world.
###