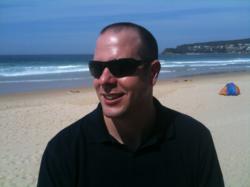 James Dyson has devised a simple, yet very effective strategy, in which he taps into the user-base of an existing and already quite popular system. The results are nothing short of astonishing, as proven by the profits he has generated in less than a year
Sydney, Australia (PRWEB) October 08, 2011
Online business expert, James Schramko, interviews design genius turned software developer, James Dyson in his recent post on Internet Marketing Speed. Dyson has been Schramko's long time web designer and is responsible for the layout on most of Schramko's business websites, including Internet Marketing Speed. In this interview, James Dyson reveals how he went from designer to being an entrepreneur and how he generated a million dollars in less than a year.
(Listen to the full interview available as podcast and downloadable mp3 on http://www.internetmarketingspeed.com/)
"As stated by Matt Mullenweg in his State of the Word address, software development is a business that is now quite popular. WordPress, being an open sourced CMS, now has over 15,000 plug-ins available developed by independent programmers from around the world. James Dyson is among those exceptionally successful in that area. He has taken every one of his designs proven effective, and bundled them up into one product called Optimize Press – now one of the most popular add-ons for WordPress" explained Schramko.
James Dyson is a young man from Sheffield in the UK, to whom Sydney-based James Schramko, turned to for designs to optimize the layout of his business websites over the past 5 years. He has successfully entered the software business after spending several years as a designer himself, and developed an automated system that gets him the same results for his clients, just as before, but with far less effort.
The interview also reveals essential tips for entrepreneurs wishing to build a business in the software industry. Exploring a niche, as it is with every business type, is critical in deciding which market to enter.
"James Dyson has devised a simple, yet very effective strategy, in which he taps into the user-base of an existing and already quite popular system. The results are nothing short of astonishing, as proven by the profits he has generated in less than a year since the launch of Optimize Press."
Unlike most software tycoons, Dyson operates his million-dollar business with the help of a very small but talented team consisting of four members, including him. This, according to Dyson, keeps operational expenses very low allowing for a greater margin of profit.
The interview also talks about how to start a software business without having to rely on investors to fund a project. It also reveals further strategies on how to reduce support strains after a product has been launched.
For the full interview visit head over to James Schramko's Internet Marketing Speed blog at http://www.internetmarketingspeed.com/how-to/james-dyson-optimizepress-interview-how-to-build-a-million-dollar-software-business-in-less-than-one-year/
About Internet Marketing Speed
James Schramko's internet marketing blog which covers a wide range of topics about modern online marketing strategies. Updated on a regular basis, James often enjoys interaction with many of his followers around the globe.
About James Schramko
Schramko started SuperfastBusiness 6 years ago. James has since become one of the most sought-after Internet Marketing Coaches in the world. Author of the tremendously successful Traffic Grab as well as the FastWebFormula live event series, James provides search engine optimization services to hundreds of clients around the world.
###