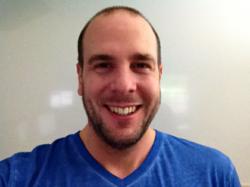 If you surround yourself with other people who are growing in a similar way, and if you shed off a little bit of fear, and you get good advice, and you set the foundations right, it's not surprising to me that people are saying their businesses doubled in
Sydney, Australia (PRWEB) February 15, 2012
In a recent podcast posted on his blog InternetMarketingSpeed.com, Internet business expert and coach James Schramko discusses some key concepts about advanced Internet business with friend Steve Ovens of Internet Software Systems.
In the podcast, which runs a little over 22 minutes, Schramko and Ovens touched on several important topics in their conversation, the highlights of which include "doubling your profit in three months", "the importance of measuring your numbers with a spreadsheet", "how to tell what is causing your success", "what foundation steps you should structure your online business with", "the key metrics you need to know to work out your hourly rate" , "the super power of veneering" and "managing a high performance team".
The exchange started off with a comment on how the participants of the current Silver Circle, Schramko's business mastermind, are all experiencing business growth. Ovens attributes this simultaneous growth to the entrepreneurs' exposure to the right environment. "We've moved into an environment that allows us to grow. It's the conditions that have enabled us to grow." Schramko affirms this with an analogy about a small potted plant being replanted in the ground. He reinforces the idea by stating, "If you surround yourself with other people who are growing in a similar way, and if you shed off a little bit of fear, and you get good advice, and you set the foundations right, it's not surprising to me that people are saying their businesses doubled in just three months."
The two offers an insightful exchange over matters that people who wish to start and maintain a successful business would be interested in. They shared some of the lessons they learned from their own experiences, often giving illustrations to make their points clearer and easier to understand.
Schramko and Ovens also emphasizes the importance of getting the core values right for the business and determining where those values come from. "A values-based leadership or company can not just hire on values, but they can control and monitor the performance and the culture of the entire business based on how well they match to the values, to the point that people can actually even self-regulate. They can recognize when their performance is not actually meeting the values of the business," Schramko explains.
The podcast has already garnered positive feedback. Many of the commenters commended Schramko and Ovens for covering the solid basics and giving great information on Internet business, while some conveyed interest in learning about wealthification. They also urged others to take the time to listen, considering that the podcast offers valuable ideas for free.
###