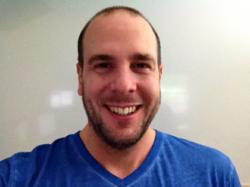 ...you will find all essential knowledge laid bare in this Super Affiliate Masterclass Course.
Sydney, Australia (PRWEB) January 10, 2012
Aussie internet marketing expert James Schramko teams up with former student Andy Grand to deliver the most comprehensive course on affiliate marketing to date. Both former employees in a corporate setting, Schramko and Grand now both run highly profitable internet businesses. It is the affiliate marketing business model that has allowed both of them to leave their high-paying jobs behind to become full-time internet marketers. They recently ran a very successful 8-week long Super Affiliate Marketing Masterclass Course with a small group of individuals, where they share never-before revealed strategies that has propelled their businesses to what they are today.
The recording of this course is now available for purchase at http://www.superfastaffiliate.com
For demonstration purposes, Andy Grand built an affiliate marketing website from scratch as a live case study which generated a little over $1,000 within just 4 weeks.
"Not many internet marketers have the courage to do this. Live demonstrations could easily flop without the right knowledge. In this course, you will find real formulas that work. We've demonstrated these formulas in a step-by-step manner that can easily be replicated. So far, the feedback from our students who participated in the live sessions has been nothing short of phenomenal. If you are an affiliate marketer and have had little or no success so far, or you want to refine an existing system you are currently using, or even if you have no experience at all, you will find all essential knowledge laid bare in this Super Affiliate Masterclass Course."- James Schramko
Here is a quick overview of the key topics covered in this course by Schramko and Grand:

How to instantly improve your Affiliate Marketing results
Market Research
Understanding your Market
Targeting the most profitable (and easiest to rank) keywords
Writing high quality content
Conversion / Call to actions
Paid TrafficSEO / Link Building
Tracking your results
To tackle unique obstacles encountered by each individual participant, Schramko and Grand provided live over-the-shoulder coaching within the 2-month period. All case studies and coaching sessions are included in the course.
For access and additional information about the course head to http://www.superfastaffiliate.com/
About James Schramko
Schramko started SuperfastBusiness in 2005. James has since become one of the most sought-after Internet Marketing Experts in the world. Author of the tremendously successful Traffic Grab as well as founder of leading SEO company, SEOpartner.com, James provides search engine optimization services to hundreds of clients around the world. LinkJuice.com is yet another welcome SEO innovation for competitive businesses.
About Andy Grand
Former Vice President of a Swiss Bank partnered with James Schramko to create SuperFastResults.com, the leading Internet Marketing Forum. He has built an empire of Affiliate Marketing niche websites, information products and is one of Clickbank's Top 100 Affiliates.
###