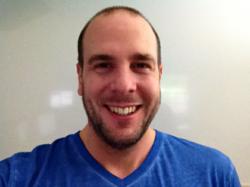 It's all about getting back to real stuff. It's real humans making real content for real humans.
Sydney, AU (PRWEB) December 06, 2012
"I think the days of the automatic, spammy and mechanized stuff is gone," states SEO and Internet marketing authority James Schramko in his latest video update on SuperFastBusiness.com. Schramko believes that the days of computer-generated content are numbered, citing his team's latest accomplishments as proof of the effectiveness of using SEO services operated by real humans:
"November was a great month. We are up 15 per cent and why is that? It's because we are human-powered at SEOPartner, ReputationManagementAuthority.com, TrafficSure.com and LinkJuice.com. What we have is a great team, and this year if I were going to summarize it, it's all about getting back to real stuff. It's real humans making real content for real humans," he asserts.
Schramko further emphasizes the value of creating genuine content and quality link building by comparing his team's performance with those of fellow SEO marketers. According to Schramko, "We're actually seeing a lift in our business because some of the other people, the shady people, have moved on. In fact, in an old SEO mastermind that I used to belong to, almost all of them have moved into paid traffic. They've moved onto the next thing and we're still here doing quality SEO and traffic, and that's a really positive thing."
In addition to greater emphasis on creating "SEO for humans, by humans" Schramko also predicts that the next big thing in online marketing will be video: "Video is my big prediction for 2013. That is because, it's engaging. It's interactive, and people are interested in watching video. You can do branding with it. You can do direct response. You can show people how to use your product," he explains.
Due to the increasing appeal and usefulness of video marketing, Schramko has come up with two products that mainly focus on videos: a video package from SEOPartner.com and another from TrafficSure.com.
"On SEOpartner.com we have an SEO video package. Give us your video and we will SEO them. We'll get them displayed and ranking well. We backlink them, and we drive you new visits. Our other package is TrafficSure.com. You just pop a video into that one, we'll transcribe it, create an image, post it into your blog, socialize it, bookmark it, and press release it," Schramko expounds.
According to Schramko, customers have occasionally compared his team's services against those of other SEO companies. He proudly shares the results: "They've tried us, and we smashed it. We got really good quality links but that's not the best part. The best part is, our results are still standing," he states.
Schramko concludes his video update by inviting viewers who are interested in SEO to avail of his free website checking service on SEOPartner.com. He states, "If you haven't already done this and you're thinking about SEO, this is the best way to start. Our team will look at your site and we'll tell you how competitive your market is. We'll show you what's going on with your site in terms of how ready it is for SEO. We'll tell you if it needs significant changes. We'll let you know if it looks damaged, and we'll also show you which of our packages is the right package for you so you can get the best possible result."
"We put the free website check in because we only want to work with people who we know we can get a result for and that means it's good for you. It means it's good for us," he adds.
Companies and individuals interested in SEO and online video marketing services offered by James Schramko and his team can get more information by visiting SuperFastBusiness.com.