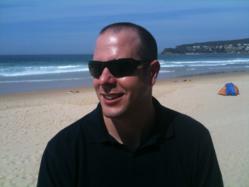 We've had an extremely dynamic class. Everyone was hungry to learn more and it has been a great privilege for both Andy and I, to teach people who are so keen on succeeding with their online businesses
Sydney, Australia (PRWEB) October 24, 2011
The Super Affiliate Masterclass training program, hosted by internet marketing expert James Schramko and Top 100 Clickbank Affiliate Andy Grand, has come to a close after 8 weeks of intense training. While the slots during the actual masterclass were limited, due to personalized, hands-on coaching from both Schramko and Grand, a webinar recording of each course module is now made available to the public for the very first time.
(See http://www.superfastresults.com/SuperAffiliateMasterclass/ for access)
"The Super Affiliate Masterclass has been far and away the best IM course I have experienced in 2 years of trying to get a foothold on the ladder to success online. Incredible value, incredible content, brilliantly delivered," said Neil Hawkesford.
The masterclass recordings, as mentioned, consist of eight 1-hour long (often longer) weekly sessions captured over the span of 8 weeks. The course covers essential tips on successfully marketing other people's products on the internet – otherwise called the affiliate marketing business model.
Hosts James Schramko and Andy Grand, both renowned for their ethical marketing principles and exceptional success in the online business, share some of their latest and most effective affiliate marketing strategies.
The course included personalized coaching from both Schramko and Grand, tackling the hurdles that most internet marketers face. These coaching sessions are available in the recordings.
"We've had an extremely dynamic class. Everyone was hungry to learn more and it has been a great privilege for both Andy and I, to teach people who are so keen on succeeding with their online businesses," said Schramko.
The Super Affiliate Masterclass is now available for those wishing to learn about the affiliate marketing business model from two world-renowned experts on the subject.
For further information and access to the course visit
http://www.superfastresults.com/SuperAffiliateMasterclass/
About SuperFastResults.com
A private and tightly monitored internet marketing forum headed by James Schramko and Andy Grand, that provides ethical and professional mindset for both veterans and newcomers to the internet marketing scene.
Gain free access to one of the most popular SuperFastResults.com Webinars when you sign up to the SFR Newsletter at http://www.superfastresults.com/.
About James Schramko
Schramko started SuperfastBusiness in 2005. James has since become one of the most sought-after Internet Marketing Coaches in the world. Author of the tremendously successful Traffic Grab as well as the FastWebFormula live event series, James provides search engine optimization services to hundreds of clients around the world.
About Andy Grand
Former Vice President of a Swiss Bank partnered with James Schramko to create SuperFastResults.com, a leading Internet Marketing Forum. He has built an empire of Affiliate Marketing niche websites, information products and is one of Clickbank's Top 100 Affiliates.
###