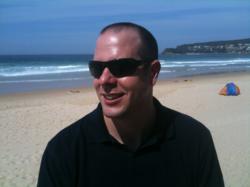 While rankings may ride on many factors other than content, it is always good to have a fresh supply of it. One thing is certain: good quality
articles that your readers love and share with others will never be frowned upon by Google
Sydney, Australia (PRWEB) October 04, 2011
Aussie online business expert James Schramko invites professional internet marketers seeking to drive traffic and increase their sites' visibility through quality content, to join the Traffic Jumbo article marketing network.
For information about article marketing and its many benefits refer to http://members.trafficjumbo.com/faq
High quality article marketing network provides fresh content to its users
Content, lots of it, is what pushes a website up the rankings. Of course, not just any content will do. According to James Schramko, quality of the content is of utmost importance.
Panda version 2.5 (as dubbed by the online community) rolled out during the past week according to a report on WebProNews. The update reportedly contains around 500 changes to the algorithm which Google describes as their effort to return quality sites to its users, causing a significant drop in traffic to some websites and a considerable increase to others - for reasons yet unknown to most.
"Details on updates to the Panda algorithm are rarely fully documented by Google, so there are many factors that may cause your site to tumble down the rankings. While the changes to the algorithm certainly are alarming, one must never lose sight of factors that are already known to us. Google loves high quality content. While rankings may ride on many factors other than content, it is always good to have a fresh supply of it. One thing is certain: good quality articles that your readers love and share with others will never be frowned upon by Google," says Schramko.
Traffic Jumbo is a massive network of websites and is an invaluable resource to those seeking to populate their websites with fresh, high quality content, says founder James Schramko.
"We place quality above all else which is why the service has earned us the trust of professional internet marketer clientele. Subscribers will get a fresh supply of relevant articles automatically, which they can choose from and post on their own sites, as they see fit. The owner has complete control over what to post on his or her site." -James Schramko
Head over to http://www.TrafficJumbo.com for additional information.
About Traffic Jumbo
Traffic Jumbo is an article marketing service provider owned by Sydney-based internet marketing expert and world renowned business coach, James Schramko. It is a massive network of websites owned by private clients. The community contributes to articles distributed within the network, making Traffic Jumbo an invaluable resource for fresh content and high quality backlinks.
About James Schramko
Schramko started SuperfastBusiness 6 years ago. James has since become one of the most sought-after Internet Marketing Coaches in the world. Author of the tremendously successful Traffic Grab as well as the FastWebFormula live event series, James provides search engine optimization services to hundreds of clients around the world.
###