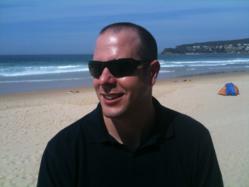 Traffic Grab is the powerful proven system that I use on my own websites for grabbing targeted traffic fast.
Sydney, Australia (PRWEB) November 15, 2011
Sydney-based Internet business expert James Schramko has built a reputation for coming up with excellent quality, great value products at very affordable costs. He is also known for sharing the knowledge that he has amassed and organizing it in such a way that he could present everything in a systematic manner. With Traffic Grab, an extremely comprehensive but very understandable online course enlightening business owners on how they can achieve online success through getting targeted traffic to their site, Schramko is able to impart many of the strategies, techniques and tools he has used to achieve his own fortune on the Internet.
According to Schramko, "Traffic Grab is a complete, big picture overview of the process that you can use over and over again to get more qualified, buying traffic that converts into sales." His audience can rest assured that he is not merely spouting theories; he actually knows all that he teaches from personal experience. He emphasizes this in the course introduction, stating, "Traffic Grab is the powerful proven system that I use on my own websites for grabbing targeted traffic fast." Considering the volume of his sites' traffic and their rankings, the smart thing to do is to pay very close attention to what the man says about improving traffic to your website.
Testimonials and reviews have been very positive. One customer said that the course just kept giving and giving, and that he had to remind himself to take it in chunks so he wouldn't miss anything or overwhelm himself. This is very encouraging to those who are leery that they might be paying for just a rehash of old and tired so-called tips that some marketers claim as their unique secrets or discoveries. Another customer asserted that he would recommend Traffic Grab to anyone who is serious about promoting his or her online business. He pronounced the price to be very reasonable, and complimented Schramko's teaching style as well as the availability of transcripts, which save the customer the effort of taking down notes.
As a matter of fact, the price is not only reasonable, it is a real steal. There are 6 modules and the first 3 are offered for free. This generous gesture is made by Schramko to counteract the greedy efforts of many marketers out there. He explained, "Internet marketing products have for too long been over-priced, and they often fail to deliver on their promises. Many are theory-based and outdated. By offering the first three modules of Traffic Grab at no charge I'm aiming to restore some balance."
Everything that needs to be learned on how to increase website traffic is in the course. It includes 24 traffic techniques that, combined, make up an ingenious traffic system Schramko himself concocted called the "Spaghetti Bowl". The course is also very straightforward and customers need not worry about irritating pop-ups or upsells. Everything is in line with Schramko's code of ethics. Choosing to go with Traffic Grab means ending up with a product of superb quality and high value, as well as dealing with somebody who transacts with integrity and transparency.
###