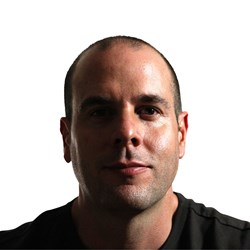 This desk allows me to be more productive with my work; I've lost weight, and you get to live longer.
Sydney, NSW (PRWEB) June 25, 2013
Seasoned entrepreneur James Schramko, owner of SuperFastBusiness and a number of other business units offering revolutionary SEO, content creation, and website development services, often advises fellow business owners on best practices and targeted solutions that can help them attain success. However, he also emphasizes that a healthy lifestyle should be an equal priority, and he makes this clear in his latest video news update which, interestingly, was filmed in a local furniture store called Kellys Office Furniture Sydney.
"I've popped into my local furniture store here to get some wheels," Schramko explains as he begins the video update, sharing that the wheels on his computer chair need to be replaced — they've become worn from being used on a carpeted floor. "I need to get one of those little protective mats, so that's my first tip," he adds, laughing.
The visit to the store turned out to be especially fruitful because the CEO discovered an office standup desk for sale —a whole bunch of desks were actually available. This came as a pleasant surprise, because as Schramko says, "The last time I was here, they weren't really big in Australia."
Schramko has recommended standup desks as an ideal alternative to the traditional sit-down office desk before; in a previous video update called "Is Your Environment Damaging Your Success?" he discusses how creating a space that is fully conducive to working (an uncluttered desk; a good, sturdy chair; a large screen; and a modern, up-to-date computer included) can help a business owner achieve the results he wants.
People who create their own workspaces have the advantage of choosing office furniture that can contribute to their improved health instead of inhibiting it. Spending several hours a day hunched over a computer or laptop is sure to cause any number of body aches and pains; over time, poor posture and lack of sufficient physical activity can also become factors for more serious health problems. A standup desk motivates a person to spend more time on his feet and to concentrate on the tasks at hand.
To further assist viewers in adopting a healthier work environment, the Sydney-based CEO also previously released a video featuring his brother-in-law Manu, a certified yoga teacher, demonstrating standing yoga poses that they can perform using the standup desk. These exercises encourage the body to stretch and become stronger and more flexible.
The standup desk that Schramko featured in his latest video has a tab that easily raises or lowers the desk to the preferred height. He recommends raising the desk to about belly button level if one wishes to work while standing, and lowering the desk if it becomes tiring (especially for those who are still getting used to standing).
"I'm buying this desk today because it allows me to be more productive with my work; I've lost weight, and you get to live longer," he said.
To view the full video and find contact details for Kellys Office Furniture, visit JamesSchramkoNews.com or TrafficSure.com today.