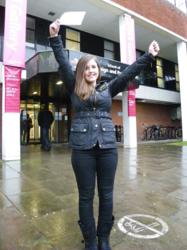 We saw this competition as a real chance for education and business to come together and the designs put forward by the students simply blew us away
Burnley, Lancashire (PRWEB UK) 30 January 2013
Shannen Marshall, 20, is bathing in glory after taking first prize in a prestigious new design competition entitled 'Bath to the Future'.
Twenty-year-old Shannen's entry - based on South African-born Kelly Hoppen – was voted tops by judges at James Hargreaves Bathrooms, who organised the competition in conjunction with UCLan, Preston.
And now Shannen, from Whitchurch, Shropshire, will have the pleasure of seeing her design built full size and displayed to the public in a special room at the James Hargreaves Bathrooms headquarters in Burnley.
"It's just amazing," said Shannen, who also picked up a prize cheque. "I am a massive fan of Kelly Hoppen, although I did think that basing my bathroom design on a top designer was a little risky and might work against me."
"All the other students seemed to be going more for acting and sporting celebrities, but luckily the decision paid big dividends. Kelly Hoppen is someone I follow avidly and I am going to try to get in touch with her to show her my design."
"Kelly has achieved so much after starting out at just 16, designing the interiors of many apartments for celebrities, hosting her own design show on Channel 5 and being awarded the/an MBE. She is a great role model for all young interior designers."
"The competition counts towards the course and it was great fun. On behalf of all the students I would like to thank James Hargreaves Bathrooms for not only coming up with the idea but also for being so generous in their time and prize money."
Shannen is in the second year of a three-year BA (Hons) Interior Design course at UCLan. Course leader Nigel Bruce Simpkins said: "The 'Bath to the Future' project has proved truly inspirational – there is nothing better than a 'live' project to get the creative juices flowing. Shannen really took it on and congratulations to her."
"We saw this competition as a real chance for education and business to come together and the designs put forward by the students simply blew us away," said Gordon Rothwell, managing director at James Hargreaves Bathrooms who have branches across the North of England. "There could have been any number of winners, such was the standard, but Shannen's entry just had that vital edge."
About Us:
Established in 1968 and headquartered in Burnley, Lancashire, James Hargreaves (Plumbers Merchants) Ltd have built an enviable reputation over the last four decades based on a commitment to supplying excellent service and the highest quality products.
With 30 Plumbing Depot trade counters, six luxury Bathrooms showrooms, a Renewable Energy department and employing about 160 employees throughout the North of England, James Hargreaves are one of the most successful and progressive independent plumbers merchants in the Country.