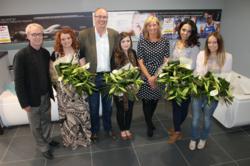 The enthusiasm of the students and the quality of the entries impressed us immensely and convinced us to stay involved in the long term
Burnley, Lancashire (PRWEB UK) 30 April 2013
James Hargreaves Bathrooms has announced 'Bath to the Future 2' - a sequel to its pioneering 2013 project which linked with UCLan in Preston to provide a unique opportunity for aspiring interior designers to take on a 'real life' bathroom design project.
Winners in both the practical and conceptual sections also saw their designs built full size and displayed to the general public in the flagship James Hargreaves Bathrooms showroom in Burnley.
The company, with six luxury bathroom showrooms across the north of England, is now planning to run the competition every two years.
"The enthusiasm of the students and the quality of the entries impressed us immensely and convinced us to stay involved in the long term; indeed, we are already starting to plan for 2015," said Gordon Rothwell, managing director at James Hargreaves Bathrooms.
"When we first decided to launch the competition we had no idea what to expect, but the response simply blew us away. It is a great example of commerce and education joining forces for the common good and we are now looking at the possibility of offering work experience to some of the students. Who knows - one of them might even end up being offered a job with us?"
Nigel Bruce Simpkins, Interior Design course leader at UCLan, said: "It is great to hear that James Hargreaves Bathrooms is ready to make a long-term commitment. The competition proved a winner with the students, not least for the fact that it was such a hands on, real life assignment. For a commercial company to present this sort of opportunity for students is to be applauded."
Many top national designers and suppliers threw weight behind the project, providing both advice and materials for the students to utilise. James Hargreaves Bathrooms put up prize money of £1400 and also provided launch and presentation events for the students and their friends and families.
More about James Hargreaves Bathrooms:
James Hargreaves Bathrooms has earned a strong reputation with customers across the North of England and also has luxury showrooms in Blackburn, Halifax, Hull, Sheffield and Stockton-on-Tees.