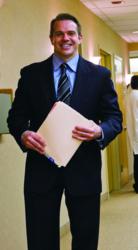 Leading a team that shares my commitment and personal devotion to provide an environment that fosters a continuum of extraordinary, multidisciplinary care makes the rewards of our work outstanding."
New York, NY (PRWEB) December 01, 2012
Dr. James C. Wittig, Chief of Orthopedic Oncology in the Departments of Orthopedic Surgery and Director of the Sarcoma Divisions of the Cancer Centers, Mount Sinai Medical Center and Hackensack University Medical Center will appear in the 8th edition of Castle Connolly's 'America's Top Doctors for Cancer' guide.
As one of only 150 orthopedic oncologists in the country, Dr. Wittig's continuous distinction of "America's Top Doctors for Cancer" emphasizes his compassion and ongoing commitment to treating cancer with the most innovative advances. This accolade is an outstanding testament to Dr. Wittig's unprecedented approaches to treating musculoskeletal tumors as well as his sensitivity to the nature of oncology cases - for adult and pediatric patients alike. Combining a genuine concern for his patients, allowing ample time to educate them of their condition at every consultation as well as explain the options available are as crucial to the well being of his patients as are the precise skills he demonstrates in surgery. It is this rare combination he exemplifies as a medical professional that are the keys to his success. When time is of the essence in oncology cases, Dr. Wittig secures a perfect balance of dexterity and passion for those seeking and needing his care.
America's Top Doctors for Cancer (8th ed.) identifies the nation's most outstanding physicians for the diagnosis and treatment of cancers in adults and children. This new edition of Castle Connolly's pioneering guide contains detailed profiles of more than 2,600 of America's leading cancer specialists across more than 44 medical specialties. America's Top Doctors for Cancer also contains valuable information on some of the nation's leading medical centers and specialty hospitals for the diagnosis and treatment of cancer. This must-have guide also contains information on locating clinical trials and how to access the resources and services of the National Institutes of Health (NIH) and the National Cancer Institute (NCI).
"Although most would agree that oncology cases are the toughest, I am challenged by each and every diagnosis, confronting them with a customized plan as individual as each patient," notes Dr. Wittig. "leading a team that shares my commitment and personal devotion to provide an environment that fosters a continuum of extraordinary, multidisciplinary care makes the rewards of our work outstanding."
In addition, the recent book co-authored by Dr. Wittig entitled, Operative Techniques in Orthopaedic Surgical Oncology, has become invaluable in the field and is the 'one and only' in-depth guide to Orthopaedic Oncology available today.
###
James C. Wittig, MD specializes in limb-sparing surgery; pediatric and adult bone and soft tissue sarcomas; melanoma; benign musculoskeletal tumors; metastatic cancers; as well as complex hip and knee replacement surgery. He also has special expertise with regard to tumors that affect the shoulder girdle and scapula. In addition to his office at Mount Sinai Medical Center located at 5 East 98th Street, New York, NY, Dr. Wittig has satellite offices affiliated with Hackensack University Medical Center, at Continental Plaza, 433 Hackensack Avenue, 2nd Floor, Hackensack, NJ and Morristown Memorial Hospital, at NJ Advanced Musculoskeletal Center, PA, 131 Madison Avenue, Suite 130, Morristown, NJ and ProHealth in Long Island. Currently, Dr. Wittig is Associate Professor of Orthopedic Surgery, Chief of Pediatric and Adult Orthopedic Oncology and the Sarcoma Program at Mount Sinai Medical Center in New York City as well as Chief, Orthopedic Oncology and Director, Sarcoma Section of the Cancer Center, Hackensack University Medical Center. He is a member of the American Academy of Orthopedic Surgeons; New York State Society of Orthopedic Surgeons, Inc.; and the Medical Society of New Jersey. He has published over 90 educational materials ranging from original reports, abstracts, videos and articles in the following publications: Clinical Orthopedics and Related Research, The Journal of the American College of Surgeons, American Family Physician, Journal of Arthroplasty, Radiology and Journal of Bone and Joint Surgery. He is also a prominent lecturer in the field of Orthopedic Surgery throughout the nation.
For more information about this or other related topics, or to schedule an appointment, please call (212) 241-1807, visit http://www.TumorSurgery.org or email Dr. Wittig at drjameswittig(at)gmail(dot)com.