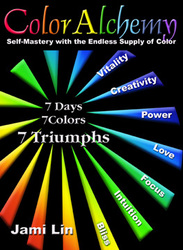 Color is here to stay and isn't a short-term fad
Ferndale, WA (Vocus) January 5, 2009
From tranquility to vitality, color helps people feel better , and influences everyone's emotions. Madison Avenue marketing geniuses command its power, as do Hollywood filmmakers, interior designers, and every artist under the sun. Color affects everything we think, say, and do.
And now, media outlets can introduce their audiences to the benefits of color with content from Jami Lin, award-winning author of the newly released "ColorAlchemy: Self Mastery with the Endless Supply of Color."
Everything that surrounds you (home and garden), everything that you wear (fashion), everything you organize and brand your business with (office), everything you eat (wellness), and even your color favorites and dislikes (mental/emotional health) influence us.
"Color is here to stay and isn't a short-term fad," proclaims Marshal Cohen, chief analyst with NPD Market Research featured by AOL/CNN-Money. MSN.com attests that color favorites will even help find your perfect job.
Whatever your motivation or desire, color can help you get it faster, easier.
What do YOU need right now: Vitality/Stamina (Red), Creativity/Ideas (Orange),
Confidence/Commitment (Yellow), Love/Compassion (Green), Focus/Clarity (Blue), Vision/Inspiration (Indigo), or Calm/Peace (Violet).
Discover why everyone wants to explore the colors of their life and its simplicity: 7 Days, 7 Colors and 7 Triumphs.
Tailor made articles or interviews for your audience and demographic.
Article Series may include Detailing one color and its life-enhancing benefits each month or Experience color benefits through holidays/monthly observances
Tons of article ideas and hundreds more! Please refer to Monthly Chart of Ideas for lots of specific and crossover article themes such as:
General Interest/Lifestyle: iPods to Washing Machines: Color Makes You Feel Good, Instantly Turn Stress into Calm with Color, or Inner Peace Is One Color Breath Away
Women's Issues: Take it off Victoria: ColorAlchemy's Secret, Reduce Wrinkles with Color, or Colorful Face Masques from your Fridge
Business Success: Use Color for Professional Success & Greater Wealth, Strengthen Your Brand with Color, Access Colors that Harness the Competitive Edge, or Increase Performance & Overcome Obstacles with Color
Family/Children: Help Children & Parents Sleep Through the Night or Encourage Better Study/Work Habits & Memory
Home/Garden: Color Therapy in Decorating, Is your decor nurturing your Color Personality, or Quick Decorating Color Tricks to Enhance your Life
Health: Body/Mind & Energy Medicine: Use Color "Medicine" to Accelerate Physical or Emotional Wellness, Nutritional Secrets: Eat Colorful Antioxidants, or Transform Sabotaging Behavioral Patterns into Unlimited Potential
Human Spirit & Awareness: Color Awakens Your Life's Purpose, Color: the Essence of Life. The Path to Enlightenment, Expand Your Sprit: the Secret Consciousness of Color, Enhance & Balance Your Most Important Qualities of Being Human, The Law of Color Is the Law of Attraction
Credits: Jami Lin's new, award-winning book (December 2008): "ColorAlchemy: Self Mastery with the Endless Supply of Color" explains the cross-cultural history and science of color's benefits, Color's mind, body, and spirit influence, and hundreds of easy and practical ways to apply. She has been practicing interior design since 1979 (University of Florida, School of Architecture) and as a Feng Shui master, Jami authored seven Feng Shui and numerous articles.
For more information how color improves all aspects of life, call Jami Lin 941-276-8689 or email to explore upcoming assignments and/or to provide content for your staff. Jami Lin is available for short-notice interviews. Hi-res images available.
# # #