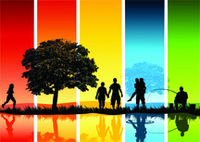 advanced thinking for infinite possibilities.
Lanham, MD (Vocus) September 20, 2009
From Sarasota bookstore, Jami Lin shares violet, color therapy secrets that provide time-tested results for mind, body, and spirit wellness. Award-winning book ColorAlchemy, rooted in Newtonian and quantum science, ancient spiritual and healing traditions, and clinical studies, teaches immediate techniques to harness life-enhancing color and make profound life improvements.
"Color can diagnose personality strengths and weaknesses thereby enhancing personal growth. By focusing on the needed color, life balance is restored and detrimental over-compensations for extra-strong attributes in particular colors are mitigated too," says Lin
Violet represents the crown chakra, which is located at the top and center of the head. Associated body parts include the central nervous system, brain, skull, and pituitary gland.
People who are weak in the violet color tend to be depressed, worthless, and purposeless. They procrastinate because they are perfectionists and suffer from performance anxiety. They are self-centered and live in extremes to fill the emptiness.
People lacking in violet tend to have problems with spirit and mental health. They are depressed, bored, apathetic, and feel alienated.
Those with too much violet may suffer from disorientation, fear, and confusion, as they are too attached to the spirit world and disconnected to the physical world.
Violet is able to provide a sense of oneness, completion, and connection to the spiritual world in a balanced way. It creates a sense of divinity and bliss. Violet can also propel one toward future goals. It reduces hunger and calms the metabolism. It can relax muscles and has a sedative influence. It can help purify the blood and maintain mineral balance.
Relief can be brought to these areas by breathing in the color violet. With eyes closed, meditate for two minutes on the violet color, or on violet objects, while taking deep breaths. Envision a healing violet ray of light entering the body. Activate the power of violet color by breathing in violet and breathing out yellow.
Use healing hands to touch affected parts of the body while focusing on that indigo color and doing color breathing. Healing hands can be one's own or those of trusted other person.
Surround in the power of violet by wearing violet clothing, adding a violet pillow or throw, changing a cell phone background or computer screen saver, or using violet dishes at meals and snacks. Store pills and vitamins in violet containers.
Balance an excess of violet by using yellow, which is the complimentary color on the color wheel. Techniques are similar as to when adding violet.
People healthy in the crown chakra are blissful, with no concerns or worries. They have a desire to reach nirvana or heaven. They can transcend maleness and femaleness. They have strong self-respect and dignity.
"Discover the conscious choice of being happy and living on Jami Lin's YouTube video called the Light of Possibility," it is the root of all self-help and personal growth.
For more mind, body, and spirit benefits with color, visit Jami Lin at ColorAlchemy.com
About us
Jami Lin's (JamiLin.com) new, award-winning ColorAlchemy book (ColorAlchemy.com) is heralded as "advanced thinking for infinite possibilities." She is a 30-year veteran of interior design using home as a tool for emotional, mental, and spiritual health. Her expertise evolved into Feng Shui (Feng-Shui-Interior-Design.com), international recognition as a master with six best-selling books, an online home-study certification program, and PBS-TV pilot. Color is her trademark.
Jami's media section provides the press with valuable, tailor-made content using color therapy, Feng Shui, design, and youth-enhancing wellness in: Lifestyle/General Interest, Family/Children, Business Success, Home/Garden, Health: Body, Mind, Energy Medicine, Youth-Enhancing Secrets, and Human Spirit/Awareness.
Jami Lin is available for interviews.
Photographs available on request.
Media contact:
Joy Starr
941-276-8689
ColorAlchemy.com
###