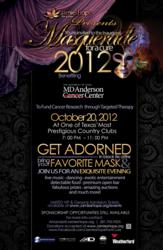 You (Dr. Tsimiberidou & the MD Anderson staff) were truly part of the inspiration which lead me to create this non-profit organization.
Houston, TX (PRWEB) September 20, 2012
Now battling cancer for the fourth time, 30-year-old Jamie Gilmore, starts a non-profit, Jamie's Hope, to accelerate groundbreaking cancer research through Targeted Therapy at The University of Texas MD Anderson Cancer Center. Jamie, along with co-founders Garrick Glascock & Cindy Gilmore, is producing a 250+ guest, black-tie gala, Masquerade for a Cure.
The inaugural Masquerade for a Cure event will be held from 7:00pm – 11:00pm on Saturday, October 20th at the River Oaks Country Club. Guests will enjoy an all-inclusive evening including open premium bar, passed hors d'oeuvres, gourmet buffets, live music, an array of exotic entertainment, an extensive auction, best dressed contests and much more! Limited general admission & VIP tickets are available at http://www.JamiesHope.org/events. Sponsorship opportunities for organizations, businesses and individuals are being offered for those looking to take part in this one-of-a-kind event. Sponsorships are available for purchase at http://www.jamieshope.org/Sponsorship-Packages/.
Jamie's Hope proudly funds cancer research at MD Anderson, accelerating the delivery of new cancer drug therapies from concept to patients in the clinic where the Center for Targeted Therapy is playing a critical role. The center, directed by Garth Powis, D.Phil., allows MD Anderson researchers and clinicians to coordinate all stages of the drug discovery and development process. The goal is to design more effective and targeted drugs with less toxicity.
Jamie would like to personally thank Dr. Tsimiberidou and ALL of the staff at MD Anderson…
"You were truly part of the inspiration which lead me to create this non-profit organization." -Jamie Gilmore.