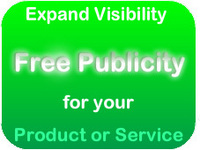 advanced thinking for infinite possibilities.
Lanham, MD (Vocus) September 29, 2009
Charities much watch every penny very closely, especially in today's tough economy. Incoming money is ideally designated to fulfill the charity's mission. Organizations need to minimize their overhead spending. PR-PRomoPRo.com is a new website that offers low-cost alternative to traditional publicity methods, that provides a greater chance for free publicity and exposure.
PR-PRomoPRo.com is unique in that they provide direct links to contacts at a variety of media outlets. Instead of sending an introduction to a generic email address, such as editor(at)magazine(dot)com, contact the marketing editor directly responsible for that content area. Numerous resources are available through magazines, newspapers, TV, radio, and Internet writers and bloggers. Often, charities do not have access to such information, nor do they have as many contacts.
Publicists can cost thousands of dollars that most charities cannot afford to spend. Success can depend on that publicist's personal connections. Sending press releases through PR-PRomoPRo.com allows for a minimal investment with maximum exposure. Contacts have already been researched and pinpointed, allowing for multiple messages to be sent all at once.
Simply make a writer's job easy by providing consumer-rich information that an editor or writer can use verbatim. Quality content gains attention and credibility. The more clearly it speaks to a reader, the more likely it will be recycled and expanded upon, either by the initial media outlet or by journalists who come across it. Fundraisers will become more profitable as the charity gains more attention, thus allow the money to be used to further the cause.
PR-PRomoPRo.com can also assist in the creation of virtual web events to be used as fundraisers.
Enjoy the convenience of virtual e-letters, press releases, and news campaigns that include ready-made videos, and are sent out on a regular basis. Information can be tweaked as needed, to enhance any situation.
Learn how to maximize web exposure by mastering search engine optimization techniques. Study techniques used by owner Jami Lin to increase her own business success. All of this media exposure becomes a valuable promotional tool to generate charitable support.
About us
PR-PromoPRo.com is a contact research and press release distribution service committed to helping others create publicity and spread their message in the most affordable, effective, and eco-responsible way.
Jami's media section provides the press with valuable, tailor-made content in: Lifestyle/General Interest, Family/Children, Business Success, Home/Garden, Health: Body, Mind, Energy Medicine, Youth-Enhancing Secrets, and Human Spirit/Awareness.
Jami Lin (.JamiLin.com) is a 30-year veteran of interior design. This expertise evolved into Feng Shui (Feng-Shui-Interior-Design.com), six best-selling books, an online home-study certification program, and star of a recent PBS pilot. Her new, award-winning ColorAlchemy book (ColorAlchemy.com), is heralded as "advanced thinking for infinite possibilities."
Media contact:
Joy Starr
941-276-8689
Written by:
Andrea Coventry
585-482-7702
montessoriwriter.today.com/where-to-read-me
###