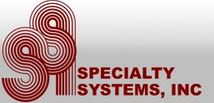 We are very happy to have worked with JAMIS on this implementation, said SSI Vice President Bill Cabey.
Lakewood, CO (PRWEB) June 26, 2013
JAMIS Software is pleased to announce our newest client, Specialty Systems, Inc. (SSI), who selected JAMIS to implement its hosted project accounting suite.
The decision was based on JAMIS' unique ability to provide an affordable solution that meets several key business requirements for SSI. These include the integrated online management of contracts, invoicing, time and expense tracking, job cost and pool accumulation, as well as adhering to all federal government contracting compliance and cost accounting practices.
"We are very happy to have worked with JAMIS on this implementation," said SSI Vice President Bill Cabey. "The integrated management features and strong reporting capabilities that our employees can access from any location will not only eliminate our reliance on spreadsheets to track job costs and billing, but greatly improve the control we have over the entire financial system."
The JAMIS team was equally excited to work with SSI on the implementation, which was completed on January 31st.
"We are pleased that SSI has entrusted JAMIS with this business-critical implementation and look forward to providing them with the most streamlined and cost-effective solution possible to meet their current and future needs," said Jeff Noolas, President and CEO of JAMIS Software.
About Specialty Systems, Inc.
Specialty Systems, Inc. has been delivering Information Technology and Engineering services to the Federal/State/Local Government and Commercial industry markets since 1978. Our mission is to understand our customers' business problems and design IT and engineering solutions that deliver radical and dramatic improvements in organizational efficiencies and productivity. SSI is made up of business people who understand technology and how it can be effectively utilized within an organization to maximize return on investment. At SSI, the focus is first on understanding the customer's business and then selecting and implementing the right technology that best fits their goals and objectives.
About JAMIS Software Corporation
JAMIS Software Corporation is a leading provider of project accounting and labor management software solutions built for government contractors, by government contractors. For more than two decades, JAMIS Software has provided customers the tools to ensure DCAA compliance.
For more information about JAMIS visit us: http://www.JAMIS.com
1-800-65-JAMIS (1-800-655-2647)
Sales(at)JAMIS(dot)com
Follow JAMIS on Twitter at JAMIS_Software