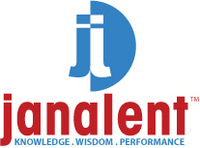 We are very proud to receive this award from Microsoft
Las Vegas, NV (PRWEB) October 29, 2009
Today, Janalent announced that Microsoft has honored the company with the Microsoft Regional Partner Award for Excellence in Team Work.
The Janalent team traveled to Phoenix on Oct. 22 for Microsoft's quarterly regional briefing to accept the award, which is given to companies with exceptional performance in working with partners to achieve customer success. The team beat many other companies in the Southwest region: Southern California, Arizona, Nevada, New Mexico, Utah and Colorado.
"We are very proud to receive this award from Microsoft," said Joe Honan, Janalent's COO and vice president of solutions. "It validates our continued focus on working together with partners and customers to provide innovative solutions that solve real business challenges."
Honan also commented on what the award means for Janalent. "This latest award, marking six consecutive quarters, coupled with our 2009 Worldwide Partner of the Year award, underscores our momentum and consistency in high performance and customer satisfaction across the mid-market, enterprise and public sector."
Microsoft Partner Account Manager Kristine Schaefer said, "Janalent has earned a solid reputation with the Microsoft team and executive management as a strategic go-to partner for Microsoft…"
Schaefer also mentioned what distinguishes Janalent from the other companies in the Southwest region. "Janalent's business strategy and numerous awards make the company a thought leader on leveraging best practices to be a true extension of the Microsoft team."
About Janalent:
Janalent is a premier technology consulting solutions provider and winner of Microsoft's 2009 Worldwide Partner of the Year Award for Unified Communications - Messaging. Our mantra -- knowledge, wisdom, performance--defines our name and provides the foundational pillars for everything we do. Our mission is to enable The Power of π (pi)™: technology that enhances our world, bringing people, ideas and information together for true collaboration without boundaries.
For more information about Janalent, please contact mediarelations(at)janalent.com or go to http://www.janalent.com.
###