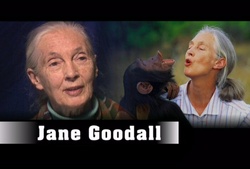 We need young heroes now, more than ever.
New York, NY (PRWEB) March 22, 2010
Dame Jane Goodall is encouraging children to dream big. That's because Goodall is raising awareness for the Gloria Barron Prize for Young Heroes, an annual award that honors outstanding young leaders, aged eight to 18, who have made a significant positive difference to people and our planet.
The winners of the Young Heroes Award, both past and present, represent the great diversity of America. They are female and male, urban and rural, and from varied backgrounds, and often reveal incredible ingenuity. Among previous winners for example, is Joying, age 10, who helped rid South Carolina beaches of litter and pollution and Ryan, age 11, who provided clean drinking water wells for over 70 African villages; and Michaella, age 14, who organized the Exceptional Rodeo for kids with physical and developmental disabilities; and Barbara, age 16, who created the "Don't Be Crude" motor oil recycling program in her rural Texas town.
The nominations are made by adults who have solid knowledge of the nominee and his or her work, but who are not related to the nominee. This could include teachers, librarians, civic or religious leaders, among others. The winners receive a cash stipend of $2,500 and/or an award, as well as national recognition for their efforts.
The Barron Prize for Young Heroes is in association with National Geographic Education Foundation; the Jane Goodall Institute; Youth Service America; and Student Conservation Association.
The Barron Prize is currently accepting applications for this year's Young Heroes. Nomination information can be found at http://www.barronprize.org or http://www.tabarron.com and the application deadline is April 30th, 2010.
Please click on the following link to view and download broadcast quality footage of what this fund is all about: http://robinbossert.ning.com/page/jane-goodall-psas
###