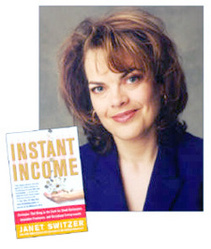 The key to success with existing customers
Thousand Oaks, CA (PRWEB) March 17, 2009
For millions of home-based business owners, losing their home in the housing crisis means losing the place where they conduct business, too. Nearly 60% of all small businesses are operated from home, says the U.S. Small Business Administration. And since self-employed workers frequently bought homes using sub-prime, no-documentation, or stated-income loans, foreclosure is often the result when business goes bad or mortgage payments reset to unaffordable levels.
"Now," says small-business income expert Janet Switzer, "home-based business owners can simply make more money--versus defaulting on their loan or trying to sell or refinance under deteriorated market and lending conditions." Switzer's book Instant Income® with her instant income plan, offers the self-employed, small business owner and "occasional entrepreneur" strategies for "bringing in the cash in just hours, days or weeks using low-cost strategies that have worked for thousands of small businesses."
"Whether you have customers already, need to find more customers or just wish someone else would help you bring in the cash," says Switzer, "there are strategies you can use and most cost very little to implement. In fact, some take just a phone call. Getting endorsed by other businesses is one proven method if you have no customers of your own. When another business owner tells his customers that you have the perfect product or service to complement something they've already purchased, buyers could literally call your business within hours of being notified. Most such deals can be negotiated to pay the endorser a small percentage only when actual sales are made."
The income system in Switzer's book includes topics on negotiating tactics, a script for calling potential endorsers, and a checklist for marketing to the other business' customers. Switzer's "favorite" strategy for work-at-home consultants, a "teleseminar"--or large-group teleconference call, is also highlighted in her book where she includes her complete collection of marketing pieces used to fill teleseminars.
"The key to success with existing customers," says Switzer "is to communicate specific offers. Instead of saying, 'We have low prices,' businesses should offer a specific item or package at a specific price--then take time to explain the benefits consumers will enjoy from that product or service. This is why I included templates for communicating compelling offers in this latest book."
About Instant Income:
The book, Instant Income®, details 35 strategies that help small businesses and self-employed people earn emergency cash from existing customers, through joint promotions with other local businesses, using highly responsive advertising techniques, in the sales department, via the Internet, and even by selling "overlooked" assets like obsolete inventory or valuable industry knowledge.
About the Author:
Janet Switzer is a New York Times bestseller and the author of Instant Income: Strategies That Bring In the Cash for Small Businesses, Innovative Employees and Occasional Entrepreneurs. She offers a free guide, the Instant Income 10-Day Turnaround Program, detailing day-by-day action steps for bringing in emergency cash in just 10 days.
In addition, Switzer has been the behind-the-scenes income strategist for celebrity entrepreneurs like Chicken Soup for the Soul's Jack Canfield and others for more than 20 years. But her favorite clients, she says, have always been "solo entrepreneurs"--those without employees, usually working out of their home and, according to Switzer, able to benefit immediately from even the smallest increase in revenue.
Contact:
Dwain Jeworski
805.499.9400
http://www.instantincome.com
Blog: http://www.instantincome.com/news
###