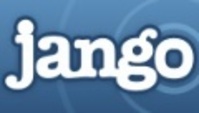 We're thrilled at how popular the site has become - and how quickly
NEW YORK (PRWEB) January 15, 2008
Jango combines music and social networking by enabling listeners to not only create their own custom stations - but also tune in to each other's stations in a fun and easy way. Its unique "social music player" lets you actually see who's listening to the same artists at the same time as you, who's tuning in to your stations, and what music your friends are playing. At any time, you can tune in and listen to any station.
"We're thrilled at how popular the site has become - and how quickly," said Jango CEO Dan Kaufman. "People love that it's so easy to get the music they want - and how natural Jango makes it to socialize through music. Our users tune in to each other all the time and it's incredible how much social interaction goes on."
To accelerate this momentum, the company just released the Jango Jukebox, an innovative music widget that can be embedded on any MySpace profile, personal blog, or website. The viral spread of widgets on MySpace and Facebook has been a key driver of growth for music sites such as iMeem, iLike and Last.fm. The Jango Jukebox - with its elaborate design and playful animation - seeks to appeal even more to users wanting to decorate their profile pages with eye-catching, self-expressive content. Designed around a captivating, interactive filmstrip of scrolling artist images, the Jango Jukebox continuously streams free, full-length songs from any artists you choose. You can also dress up your Jango Jukebox in a variety of fun skins, like leopard fur, blue jeans, camouflage, tie-dye, basketball rubber, snakeskin, and more.
"Until now, music widgets have been surprisingly drab and boring. The Jango Jukebox is the first music widget that's really cool looking and fun to use - perfect for anyone who wants to spice up their MySpace page," continued Kaufman.
Now you can get your own Jukebox at http://jukebox.jango.com. A Facebook version of the Jango Jukebox is coming soon.
About Jango
Jango is a social music service that lets people create and share custom radio stations. It's the easy way to play the songs you want online, legally and free. With the ability to tune in to other users' stations at anytime, no other site combines music and social interaction better. Founded in 2006 and based in New York City, Jango is licensed by ASCAP, BMI, SESAC and SoundExchange. To experience truly personalized Internet radio that is simple, free, and social, tune in today at http://www.jango.com.