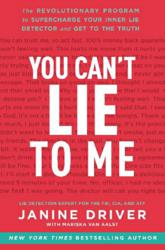 80% of lies are undetected. Adults will lie 1 in 5 social situations. College kids lie 1 out of every 3 situations.
San Francisco, CA (PRWEB) August 28, 2012
Mark Twain observed "There are three kinds of lies: lies, damned lies, and statistics." Adolf Hitler said: "If you tell a big enough lie and tell it frequently enough, it will be believed." Many public figures in recent times names' have become synonymous with deception. Most people need not look far into their personal lives for examples of painful, costly deception by loved ones or strangers.
Janine Driver spent sixteen years as an investigator with the Bureau of Alcohol, Tobacco and Firearms and has trained thousands of law enforcement agents in the art and science of deciphering fact from fiction. Her first book, You Say More Than You Think, focused on body language and was a New York Times bestseller translated into 14 languages. In her new book, YOU CAN'T LIE TO ME: The Revolutionary Program to Supercharge Your Inner Lie Detector and Get to the Truth (HarperOne; September 2012; Hardcover), Driver reveals the techniques used by law enforcement agencies to detect when a person is lying and helps readers develop an inner lie detector to uncover the truth with any person, in any situation, be it with a spouse or partner; first or tenth date; a prospective money manager; employee or boss; politician or protestor; friend or frenemy; neighbor or stranger.
One of the first truths of deception detection is discovering that everyone lies. In fact, one out of every five times a person opens his mouth, he's likely telling a lie, and 80% of all lies go undetected. The odds are that people are being lied to throughout the day, every day.
Whether those untruths are innocuous (your hair looks great), life-altering (your partner is cheating on you) or criminally horrendous (the friendly man down the street is a pedophile), Janine Driver provides the very same brain processing techniques that sophisticated lie-detection machinery (polygraphs, fMRIs and infrared eye scanners) seek to match in effectiveness.
In revealing first-person case studies and by integrating the three core disciplines of deception detection—the new body language, verbal and auditory tells, and statement analysis—into Janine Driver's 5-step B.S. Barometer program, YOU CAN'T LIE TO ME trains readeres how to:
1. Observe a person's baseline—the key to accurate lie detection
2. Identify lies in all formats—email, voicemail, phone calls, handwritten notes, and in-person encounters.
3. Read between the lines—how to identify shifts in language that indicate deception
4. Identify a liar's deviations and discomfort via microexpressions and body language
5. Interrogate—employ tactics and techniques to reveal the truth.
By employing the subtle but effective techniques used by federal agencies and local police departments, anyone can learn to decipher nonverbal language clearly, quickly and accurately; identify the temperament and emotional responses of chronic liars and manipulators; master insider tricks of interrogation; detect subtle leaked clues and hot spots in inconsistent behavior before damage is done; and learn to spot deception in all forms.
YOU CAN'T LIE TO ME guides readers to make wiser decisions and gain confidence in their actions. Learning these critical skills can help people to hire workers whose experience can be trusted, start relationships on the right foot, negotiate with confidence, protect themselves and loved ones from master manipulators and criminals, and above all stop wondering about the line between truth and deception in order to live a happier, more secure life.
About the Author:
JANINE DRIVER is a world-renowned "deception detection" expert whose New York Times bestseller You Say More Than You Think has been translated into fourteen languages. After 16 years at the Department of Justice, Driver is now the founder and president of The Body Language Institute, a highly sought-after keynote speaker, and the go-to expert in lie-detecting and body language for the media and the FBI, CIA, ATF, and the International Chiefs of Police. She has appeared on The Today Show, The Dr. Oz Show, Rachael Ray, Anderson and many more. She lives in Alexandria, Virginia. Visit the author online at http://www.lyintamer.com.
YOU CAN'T LIE TO ME
The Revolutionary Program to Supercharge Your Inner Lie Detector and Get to the Truth
By Janine Driver
September 2012
ISBN: 09780062112538
Also available as an e-book.