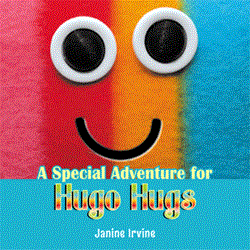 Auckland, N.Z. (PRWEB) August 14, 2013
A Special Adventure for Hugo Hugs was inspired by Proverbs 11:25 that encourages us to be more focused on others than on ourselves. Everyone dreams of fame and fortune. Who would not want to be someone who inspires awe and applause? Hugo learns the hard way that these feelings are fleeting and very difficult to sustain. Inspired by favourite memories as a mother snuggling up to her daughter under a cosy blanket to read her a bedtime story, author Janine Irvine has written a book for Christian parents to maximise the excellent time of night to teach how the biblical wisdom of Proverbs applies to modern life. She says of her writing experience for this particular book:
"(Working) on an in-depth study of the book of Proverbs… I was struck (by) how important it is we teach our children the difference between God-inspired character and behaviour or values (often) promoted… today."
Born into a family that serves others above themselves, Hugo bristles at the very notion of spending his life worrying about others when he wants them to be worrying about him instead. He sets off on an adventure to discover his own special place in this world, eager to earn the praise of anyone with his amazing feats. He discovers many special talents and loves the enthusiastic response of his admirers, but at the end of each day, Hugo is left sad and alone. Along his journey, he has the opportunity to help out a few others and is stunned at his own response to helping them. When he realises that he feels most special when he is least focused on himself, Hugo Hugs finds true happiness that doesn't fade.
The original Hugo was inspired by Janine Irvine's playing with some colourful fabric. She made rainbow coloured soft toys from them which she affectionately called Hugs. They became perfect heroes for her children's bedtime stories. With the help of photographer and family friend Dave Simpson, Hugo Hugs became a wonderful creative vehicle which made the story come to life. Vibrant and fun, they help children to appreciate biblical wisdom in Irvine's story. All in all, A Special Adventure for Hugo Hugs will truly be a special adventure and educational guide that children will remember and treasure throughout the growing up years.
For more information on this book, log on to http://www.Xlibris.co.nz .
About the Author
Janine Irvine was born in Zimbabwe, raised in South Africa and is now happily settled in Auckland, New Zealand. Together with her husband, James, she raises their teenage daughter and a mini zoo of pets! She works as a life writer and enjoys meeting a range of different people while capturing their life stories and helping them to produce legacy documents for their families. Studying English and Communications at University, she has always loved writing and crafting words together to express an idea or a personal story and has wanted to use her creativity to share biblical wisdom with young readers and their families. With many years of experience serving in Children and Youth ministry, the author has always valued finding creative new ways to share the truth, encouragement and life giving hope found in the Bible. She hopes her readers will enjoy the adventure of Hugo Hugs as much as she enjoyed writing about the endearing little guy.
A Special Adventure for Hugo Hugs * by Janine Irvine
Publication Date: July 16, 2013
Picture Book; NZ$39.99; 36 pages; 978-1-4836-5752-3
Picture Book Hardcover; NZ$59.99; 36 pages; 978-1-4836-5753-0
Members of the media who wish to review this book may request a complimentary paperback copy by contacting the publisher at 0800-891-366. To purchase copies of the book for resale, please fax Xlibris at (09) 353-1455 or call 0800-891-366. For more information, contact Xlibris at 0800-891-366 or on the web at http://www.Xlibris.co.nz .