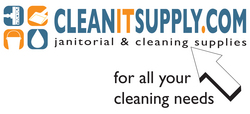 Jeffersonville, PA (PRWEB) October 15, 2010
http://www.CleanItSupply.com , a leading online retailer of wholesale janitorial supplies and cleaning supplies increased overall revenue 88% compared with 2009 year to date results through improved marketing promotions, search capabilities, and navigation technology.
CleanItSupply.com serves end user consumers and businesses and reported record numbers from 2009 as compared with 2010. Some of the statistics are as follows:

Direct traffic is up 23%.
Referring traffic is up 12%.
Transactions are up 137%.
Ecommerce Conversion Rate is up 17%.
Revenue is up 88%.
This exponential growth between 2009 and 2010 was possible because the owners and operators of CleanItSupply.com have spent the past year implementing new technologies and ecommerce user experience tactics that have significantly increased conversion and sales growth. Key factors that stimulated such growth included changes in search technology, taxonomy, promotional emails, shipping, social networking, marketing top-selling products, competitive pricing, and customer service.
Search
CleanItSupply.com added new search technology in 2008 and in March 2009 had expanded by adding new auto-complete search suggestions with popular searches and product matches with images features. The newly expanded search functions allowed the company to analyze conversions per search term and to identify top selling products as well as most searched for key terms that visitors were looking for.
Taxonomy
To help customers easily navigate to the products they are looking for, CleanItSupply.com continually develops new category names and navigation structures based on customer search analysis. The company estimates orders have increased by more than 3% as a direct result of the taxonomy and navigation changes
Emails
CleanItSupply.com realized they could not wait for customers to come to find the latest promotions and sales on their website, but knew they had to inform their customer base as to what's hot, new, and on sale. They started a marketing campaign of emailing top products and specials based off top selling skus and seasonal items on a biweekly basis so customers could capitalize on special offerings and money saving deals.
Shipping
CleanItSupply.com also made adjustments to its shipping model to accurately calculate ship costs of multiple packages shipping from multiple origins to one destination. These precise calculations enabled them to offer customers exact costs from UPS charged to them and therefore enabling their volume discount prices extended directly to the customers, thus saving money and lowering the overall shipping cost for each purchase.
Social Buzz
This year, CleanItSupply.com also started a social network marketing campaign by adding a Facebook page and Twitter marketing presence and now has more than 310 Twitter followers and more than 140 Facebook fans and growing feverishly.
Top Sellers
CleanItSupply.com understood that customers would like stronger and more detailed product descriptions as well as accurate product images so that they are fully informed on the products as they are shopping online. Therefore, enhanced product descriptions, attributes and images have been completed. This change on the top 300 products led to an increase in orders and conversions.
Pricing
CleanItSupply.com knows pricing plays a major role in the ecommerce world and paying close attention to its competitors is vital for sales. CleanItSupply.com routinely monitors its competitors pricing and ensures that they are offering the lowest possible price to their customers daily. This was done because in today's economy, CleanItSupply.com understands that they must leverage their large buying power and pass those the savings on to the customer to increase sales.
Office Hours
CleanItSupply.com listened to their customers and responded accordingly. They wanted a live person to field their calls both earlier in the morning and later into the business day. This prompted the company to expand its business hours from 8:00am to 7:00pm Monday through Thursday and 8:00am to 5:30pm Fridays EST. There are multiple customer service representatives ready to answer questions from customers.
New Hires
To support CleanItSupply.com's growth over the past 12 months, they brought on new team members specializing in marketing, analytics, web development, and customer service. Having the right skill set of professionals on board has rounded out and enhanced the capabilities and company offerings.
New Enhancements Coming Soon
CleanItSupply.com is scheduled to launch an all new look and feel in late 2010. This redesign will launch with a new updated logo and color scheme. Special focus will be on customer usability features including drop down navigation, average competitors price, special bulk pricing quotation feature, search and filter by product attributes, and other proprietary technologies.
The new features available from CleanItSupply.com continue to set the industry standards for product availability, knowledge, pricing and service. They continue to improve by using the latest technology available on the web to ensure the lowest prices and the best service in online shopping. With its prompt service, state of the art website, and knowledgeable employees, CleanItSupply.com continues to be the online wholesale janitorial supplies retailer that customer's trust with aggressive pricing and excellent customer service to all.
For additional information, visit CleanItSupply.com, the online janitorial supply retailer buyers trust, or call toll free at 1-800-998-3295.
Contact
Dan Dillon
President, CleanItSupply.com
ADDRESS
Jeffersonville, PA 19403
Toll Free: 1-800-998-3295 ext 303
Direct: 484-235-5142
Fax: 610-539-5292
Email: info(at)cleanitsupply(dot)com
###