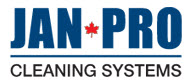 We are the only company in Canada to offer this unique cleaning technology. People can now have their office disinfected efficiently, at a very affordable price. Many clients that have used the Enviroshield system are happy with the results
Canada (Vocus/PRWEB) February 17, 2011
Jan-Pro announced today they are the only commercial cleaning service in Canada that offers the unique "EnviroShield" Spray Disinfecting System.
Jan-Pro's EnviroShield is a unique and environmentally safe disinfecting technology that covers every surface in the office to combat viruses and bacteria, including MRSA. The sprayer nozzle adds an electrostatic negative charge to the disinfecting solution as it is applied, so that is actually surrounds and clings to the surface it touches.
"We are the only company in Canada to offer this unique cleaning technology. People can now have their office disinfected efficiently, at a very affordable price. Many clients that have used the Enviroshield system are happy with the results." -- Jean Roberge, President & CEO Jan-Pro Canada Inc.
Today, fighting all the new stands of the flu virus and bacteria is hard to keep up to and ensuring that you keep your employees at work and healthy is ultimately a huge importance to Canadians. The Public Health Agency of Canada stated that this year the flu virus is hitting Canadians five times more than last year. Office worker's hands come in contact with 10 million viruses or bacteria each day. The most germ ridden items on a desk is the phone, followed by the keyboard, computer mouse and desk top, all of which harbour over 6,000 germs per square inch.
With this unique EnviroShield Disinfecting System, Jan-Pro continues to bring the latest technology in their industry. The EnviroShield is a Jan-Pro exclusive service that combines a state-of-the-art sprayer delivery system with a hospital grade disinfectant that is proven and rated in the safest category possible.
The multi-purpose disinfectant and deodorizing cleaner that the EnviroShield uses is the EnviroTru. Ready to use, requires no special storage or ventilation, and is non-flammable, EnviroTru is non-corrosive and non-staining on all surfaces and requires no protective equipment for the operator or safety precautions for building occupants, and is EPA registered.
The Enviroshield sprayer achieves 100% disinfection coverage (4-10 more than conventional sprayers) because the electrically charged spray droplets have a force of attraction of 75 times that of gravity. Droplets move upwards, against gravity, to coat hidden areas.
About Jan-Pro International, Inc.
Jan-Pro was founded in 1991 by Jacques Lapointe in Providence, Rhode Island, with a desire to offer the highest quality cleaning techniques and systems available. Currently, the Jan-Pro team is comprised of business leaders with experience around the world, as well as seasoned cleaning industry executives. Today company structure is comprised of Master and Unit franchisees. Jan-Pro regularly receives inquiries from around the world.
To learn more, visit the Jan-Pro Canada website at http://www.jan-pro.ca.
About EnviroSystems, Incorporated
EnviroSystems, Incorporated produces cleaning and disinfecting products that is believes will help prevent the spread of infectious microorganisms while minimizing the harmful effects to people, equipment or the environment. EnviroSystems, Inc. is focused on safe infection prevention technologies that the company believes will position the company in the forefront of the industry at the time when there is rapidly growing awareness of the critical need to prevent biological risks – both natural and man-made. Visit http://www.envirosi.com for more information.
SOURCE: Jan-Pro Canada
INFORMATION: http://www.jan-pro.ca
# # #