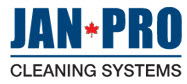 "The Jan-Pro Master Owner Franchise Opportunity is more than just buying a franchised business," said Colin Bates, Vice-President of Jan-Pro Canada Franchise Operations. "It means investing in a business that will create an annuity for life…"
Canada (PRWEB) August 30, 2012
Jan-Pro Canada, an established global leader in commercial cleaning, announced today that there are eight master franchise locations currently available for sale in Canada: Edmonton, Winnipeg, Hamilton, Kitchener/Waterloo, London, Regina/Saskatoon, Niagara and Victoria.
These new regions represent the expansion of a growing trend in Canada towards using commercial cleaners that have a tested and proven system and process backing up their services and an excellent satisfaction guarantee. There are more 10,000 small and medium-sized businesses in Canada that currently use Jan-Pro and the Jan-Pro Cleaning System. By opening up new Master Franchise locations to the Canadian market place, even more businesses and companies will be able to take advantage of world class office cleaning.
In conjunction with the announcement of these new locations, Jan-Pro Canada has launched a new corporate blog about Master Franchise Ownership at http://www.janprofranchiseopportunity.ca. This new blog is targeted at corporate executives who are interested in leaving the corporate setting and running their own business without the complexity of starting their business from scratch.
"The Jan-Pro Master Owner Franchise Opportunity is more than just buying a franchised business," said Colin Bates, Vice-President of Jan-Pro Canada Franchise Operations. "It means investing in a business that will create an annuity for life. The territories we have available create significant business opportunity for people looking to run their own business based on a proven model that will pay them back for years to come."
Jan-Pro's new Master Franchisee Website offers an easy-to-navigate platform that guides interested prospects through the franchising process so that they have what they need to make an informed decision.
"We wanted to take a pro-active approach – we hear questions all the time from enthusiastic prospects eager to purchase a Jan-Pro franchise. We wanted to answer those questions preemptively in a format that arms future franchisees with step-by-step, actionable information so that they understand the business opportunity available to them to start a business," says Jean Roberge, President, Jan-Pro Canada.
JAN-PRO's Master Franchisee Website offers:

A Jan-Pro franchise is an ideal business opportunity for anyone feeling frustrated in their existing corporate environment, but who does not want to incur undue risk. For more information about JAN-PRO franchise opportunities, contact master[dot]franchise[at]jan-pro[dot]ca or (888) 977-1444.
About Jan-Pro Canada
With a 93% customer retention rate, once you hire Jan-Pro Office Cleaners, this is the last time you'll go through the process. We make it easy to; buy our cleaning services, manage our people and see the results. We take complete ownership of a consistent office cleaning service. We are currently located across Canada in the following cities: Vancouver, Calgary, Toronto West, Toronto East, Ottawa, Montreal, Sherbrooke, Quebec and Halifax. To visit our Canadian website please go to http://www.jan-pro.ca