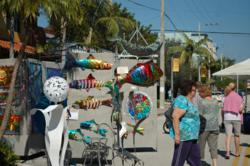 This month the DDA is featuring over 30 art galleries and studios, 7 museums, 5 entertainment venues filled with live entertainment in Downtown Delray Beach
Delray Beach, Florida (PRWEB) January 08, 2013
The Downtown Development Authority is showcasing the array of fine art and fabulous fashions available in Delray Beach. With over 30 art galleries and studios, 7 museums, 5 entertainment venues filled with live entertainment, Downtown Delray Beach has everything guests and visitors need for a complete artistic immersion. "This January we are showcasing the over 50 fashion boutiques and shops in Downtown Delray Beach along with fabulous artist and galleries," expresses Marjorie Ferrer, Executive Director, DDA. "We are taking this opportunity to share with visitors and residents what makes Delray Beach truly authentic."
The Night & Day Downtown Delray Art and Fashion features a blend of gallery demonstrations and shopping events, along with one of a kind promotion only available in the month of January. The promotions are available online at http://www.downtowndelraybeach.com/promotions. Guests are encouraged to visit the facebook.com/delraydda page for some other exciting promotions and giveaways.
Special Events Highlighted During
"Night & Day Delray Art and Fashion":

Jan. 15: Special Artist presentation at Forms Gallery featuring works by David McEwen – call 561-274-3676
Jan. 17: Artist Alley Open Studio Night from 6pm -9pm at 354 NE 4th St. – Featuring over 10 local artists works Artist Alley (561) 276-1177
Jan. 18: Fabulous 3rd Friday Open House Downtown featuring special artist showings, dining and entertainment and a one of a kind Fabulous Fashion Show
Jan. 19-20: Downtown Delray Beach Fine Art Festival; 10am – 5pm on East Atlantic Ave (7th Ave-A1A) Free to public
Throughout the month that is themed Art and Fashion, visitors and locals alike can truly experience what makes Downtown Delray a place of style without attitude.
About the Downtown Development Authority: For the past 41 years, the Downtown Development Authority has assisted in successfully branding Delray Beach as the Village by the Sea. The Delray Beach DDA was created by Resolution 9-71, which became law on March 22, 1971, as a dependent district of the City of Delray Beach. The DDA Mission is to enhance and stimulate balanced economic growth through position marketing activities that engage Downtown businesses, residents and visitors while creating a clean, safe, physical and experiential place to live, work and invest. The main areas of involvement in downtown redevelopment include: Marketing and Promotions; Economic development programs; Place Making within the DDA boundaries. The DDA also works closely with merchants to develop seasonal retail awareness campaigns to generate traffic and sales and has created a powerful website http://www.downtowndelraybeach.com and facebook.com/delraydda site that attracts thousands of visits weekly.
Contact: Laura Simon, Downtown Development Authority 85 SE 4th Ave, # 108 Delray Beach, Fl 33483 (561) 243-1077 Lsimon(at)downtowndelraybeach(dot)com http://www.downtowndelraybeach.com/dda