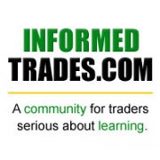 There isn't a bigger and better opportunity in the world's financial markets than the Yen.
Chicago, IL (PRWEB) April 01, 2013
InformedTrades.com, an online community whose mission is to help individuals learn to trade the world's financial markets, has just released a free guide to Japan's Debt Crisis. The guide, just one page in length and packed with videos and graphics, is broken down into three categories to help individuals understand the crisis in Japan -- and position themselves accordingly:
1. Education: The first section simply contains a video and an infographic that explain Japan's debt crisis, the key factors driving it, and how the drastic change needed will be difficult to bring about.
2. Expert Testimony: The second portion of the guide features audio and video testimony from investment professionals with a track record of success who have studied Japan's condition in great detail. They share their forecasts and the rationale behind them.
3. How to Trade It: This section documents a strategy used by some of the most successful traders ever to get the most out of long-term trends. For those not interested in trading themselves, an interview with a fund manager currently accepting clients is also included to provide perspective on available funds focused on Japan and how they operate. Moreover, this component of the guide is meant to help individuals decide what instruments they wish to use to speculate upon Japan's debt crisis -- namely the spot Yen rate against gold or the US dollar, Japanese Government Bond futures, or ETFs traded on US exchanges that correspond to the Yen.
As for why the guide was released, InformedTrades founder Simit Patel noted how it relates to the InformedTrades mission of helping traders learn. "The debt crisis Japan faces is likely the biggest macroeconomic event in the world today," Patel said. "And so, in my opinion, there isn't a bigger and better opportunity in the world's financial markets than the Yen. From this perspective, Japan offers an outstanding and unique opportunity for traders to learn about economic conditions that drive prices in financial markets." Because Japan's debt crisis is multi-faceted, InformedTrades LLC believes a clear and concise guide will serve as a useful tool for traders looking to learn more.
To view The InformedTrades Guide to the Japanese Debt Crisis, go to informedtrades.com/japan. Beginners looking to begin trading the Yen are advised to start with the InformedTrades Beginner Forex Course, as well as explore the plethora of courses and social learning options available via InformedTrades.