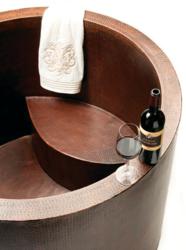 The Japanese soaking tub isn't made for washing, it's for raising the body temperature (a la a sauna or steam room), relaxing the muscles, and in a more spiritual sense, cleansing the mind or soul.
(PRWEB) November 08, 2012
HomeThangs.com – the Home Improvement Super Store has made their goal to deliver the right product to the consumer, with that in mind, shopping and home design tips, as well as special product selections are being introduced.
The art and ritual of bathing varies widely the world over. In Japan especially, water is considered to be spiritually as well as physically cleansing – a belief which led to the development of a very different attitude towards bathing, different bathing rituals, and even different bath fixtures. The Japanese bathroom is very different from those in the US, but many traditionally Japanese fixtures – especially the Japanese soaking tub (the furo or ofuro) – are beginning to become popular in the US as well. Homethangs.com introduced a few tips for those who would like to build a Japanese bathing nook at their own home.
1. In the United States, the bathtub and shower are more or less considered two versions of the same thing – both are made for washing and, to a lesser extent, for relaxing. In Japanese culture, bathing is a two step process. First, bathers sit on a small stool on a water proof floor with a drain in the center. They scoop water from the tub onto their bodies and wash their hair and skin thoroughly with soap, then rinse with another scoop of water. Then and only then – after washing and rinsing – do they get into the furo or ofuro, a deep, narrow tub filled with very hot water – in modern terms, something like a Round Acrylic tub from Barclay.
2. The Japanese soaking tub isn't made for washing, it's for raising the body temperature (a la a sauna or steam room), relaxing the muscles, and in a more spiritual sense, cleansing the mind or soul. Historically, this has practical roots as well – many families would use the same bath water in order of seniority or bathe together (and in many parts of Japan, still do). Washing and rinsing before entering the communal bath allowed more people to enjoy clean, hot water without wasting water or having to reheat it. While one might not want to share a tub with the whole family, many models like the Resin Round Tub from Barclay is just the right size for a bath for two.
3. Traditionally, Japanese soaking tubs (the original hinoki furo) were made of wood, typically at least 25 inches deep, and shorter than the average American tub. Most Japanese soaking tubs have seats inside them (like Japanese Soaking Copper Tub from Premier Copper Products), allowing bathers to submerge all the way up to their shoulders without either laying flat or having to sit with their knees to their chest. Many (but not all) are round, and traditionally come with a lid to lay over the top when the tub isn't in use to help retain the heat. As well, authentic Japanese soaking tubs don't have a Western-style overflow, and are actually allowed to spill over the top.
4. This is largely because the Japanese bathroom is much smaller than an American one – more like a luxury shower stall than a full sized bathroom. All the fixtures in a Japanese bathroom are water tight – the shower is left open to the tub, and all washing is done while sitting on a stool in the center of the floor, where the water flows to a central drain. This creates a steamy, wet environment expected from a steam shower that fills the entire bathroom without the threat of damaging walls, ceiling, or floor. If opting for a No-Overflow Japanese soaking tub, it is important to make sure the floor (and drain) can handle the excess water.
5. Even with a big bathroom, there are a couple reasons for why to still want the Japanese tub, not the least that they offer a slightly exotic, slightly unusual alternative to an average freestanding tub that'll give the bathroom a little more personality. Depending on the tub, it also requires less water to get better soaking coverage than a traditional European style tub, and it offers a nice, intimate alternative for couples that don't want to sit end-to-end like they would in a double sized tub. It is also important to pay attention to the capacity of the tub, though, is it can be very difficult to eyeball, and a tub with a very high capacity could weigh only a 100 pounds empty, but jumps up to a whopping 1,394 pounds when filled, which may mean the floor needs extra reinforcement.
HomeThangs.com is not only a home improvement superstore, it also provides expert design tips and a comprehensive shopping guide, taking the ideas from professional interior designers, and offering tips to the consumers on how to pick the products to best suit their needs.