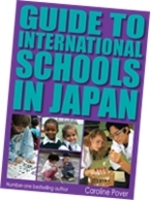 Guide to International Schools in Japan
Tokyo, Japan (PRWEB) July 1, 2009
International schools in Japan can be hard to find. Trying to find detailed information about a Japanese international school is even more difficult. This daunting task has now been simplified by the "Guide to International Schools in Japan" by bestselling author Caroline Pover. This guidebook about schools in Japan is essential reading for expatriate parents, internationally-minded Japanese couples, and bicultural families. It is the first-ever comprehensive guidebook written in English about international schools in Japan. The book gives parents the ability to examine over one hundred schools, all in one publication. This book is also a vital resource for adventurous teachers looking for the perfect Japanese school in which to continue their careers. Based on over 60 questions that parents ask when looking at educational options for their children, the "Guide to International Schools in Japan" features six pages on each Japanese international school located throughout the country.
This giant 692-page guidebook offers the most in-depth account of Japanese international schools available. The book contains information about: Japanese classroom and school size, history, goals, ethos, curriculum, facilities, hours, terms/semesters, vacations, Japanese school contact information, teacher and staff backgrounds and qualifications, school awards and recognitions, languages taught, language of instruction, services for bicultural children, special needs services, gifted child programs level, placement tests, religious affiliations, Japanese school lunch policies, disciplinary procedures, school buses, parking, security, homework expectations, school trips, special events, extracurricular, after-school, summer school programs, expected parental involvement, alumni activities, fees, discounts, application procedures, acceptance criteria, scholarships and much more.
If you are looking for Japanese international school policies, international schools in Osaka, a British school in Tokyo, or an American school in Japan, the "Guide to International Schools in Japan" is essential reading and a valuable reference. The book can be purchased directly at Caroline Pover's website: http://www.internationalschoolsguidebook.com
Caroline Pover is a former English primary school and Japanese international high school teacher and is a number-one bestselling author, motivational speaker, magazine and book publisher, and award-winning entrepreneur. With her second book, Caroline Pover draws upon her background in education and interest in child development as she combines her two passions: publishing and pedagogy.
###