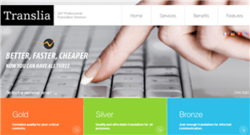 By offering better, faster and cheaper Japanese translation, Translia contributes to the earthquake relief actions in its own way.
(Vocus/PRWEB) March 14, 2011
Translia, the leading online translation service provider, announces a 20% discount for professional Japanese translation related to 3/11 earthquake in Japan, with an aim to facilitate timely access to latest news and reports about the event, and multilingual communications involved in international aid efforts.
The March 11, 2011, earthquake and tsunami that devastated Japan has made that country the center of world attention. Widespread destruction of infrastructure, especially telecommunications, has made it very difficult to disperse information on rescue efforts, the extreme threats posed by at least two nuclear reactor facilities at Fukushima, and the impact on major corporations like Honda and Sony.
The break-down in communications has had an immense impact on the ability of Japan's NHK network and other national media to function as news sources. Right now, there is an urgent need for fast and accurate translation of Japanese media content into many languages around the globe.
News outlets have few staff members fluent or even conversant in the Japanese language. Some journalists may turn in desperation to Google Translate and other sites for translation services. Unfortunately, the quality of these translations is sorely lacking. They provide only a rough idea of the total meaning of a news story. Additionally, Google Translate itself provides translation of Japanese into about 58 other languages out of the several hundred spoken on earth.
Translia, on the other hand, is an online platform utilizing the skills of 10,000 translators for 98 languages, including Japanese. The Translia platform is able to translate a large volume of content in a very short amount of time.
What sets Translia apart from other online translation providers is the large number of expert personnel with technical backgrounds. These translators have expertise in several technical areas that are of great use during disaster response and recovery operations in the midst of earthquake, tsunami, nuclear power, and population dislocations, challenges that continue to hamper the dissemination of information from the quake-damaged areas of Japan.
Of even greater importance in the aftermath of such widespread and pervasive devastation is getting news content translated as quickly as possible. Translia offers 24/7 services without additional fees for rush jobs. It is staffed by professional native speakers, so customers can be assured of quality translations.
Translia offers three levels of service in its translations that are priced accordingly. Media and other potential customers can choose the level of service their organizations require and that also fits into a company budget. Instant quotes are available, eliminating any guesswork on pricing. In addition to plain text, Translia handles many major file types for document translation, including .doc (Microsoft Word XP/2000/97), .docx (Microsoft Word 2007) as well as open source documents like .odt and .odp, file types published in Open Office suite by Oracle.
For more information on the fast translation services at discounted rates and other special offers from Translia regarding translation for Japan earthquake aid, visit http://www.translia.com/translation/japan_earthquake_aid.
# # #