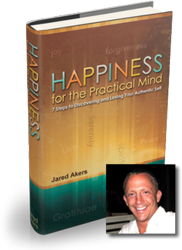 This book will empower you to discover your authentic self and achieve a happiness that's practical, actionable, and sustainable.
Lee's Summit, MO (PRWEB) August 24, 2012
Jared Akers' new book on happiness is now available in paperback, Kindle and e-book bundle versions. The book details seven actionable steps for leading a happier life and draws on Aker's personal experiences. Author Laura Lake calls the book "raw, inspiring and transitional" and the book is recommended by healthy living sites like GoodLifeZen.com. Readers can order the book online through Amazon or JaredAkers.com.
At 22 years old, Jared Akers had achieved his childhood dream of being a zookeeper. After a few years in the idyllic job, Akers awoke in a state of dissatisfaction with his life. He spent several depressed months during the spring of 2006 as he learned the age old lesson that money, and accomplishments, cannot buy happiness. During that time, Jared began to seek a different way of life with desperation.
After deep personal struggle, self-exploration and hard-work, Jared found seven workable steps to a happy life. Akers considers himself lucky and he wants to share his hard work with others. In addition to his new full-length book, he offers free advice and tips for practical living on his website, http://www.JaredAkers.com. He also offers a free e-book titled "How to Be Happy Now: Finding Happiness in Everyday Living."
A tag line for Jared's new book is "This book will empower you to discover your authentic self and achieve a happiness that's practical, actionable, and sustainable." The book promises fluff-free advice and action based information that will allow the reader to uncover truths about his or her emotional state and purpose in this world.
The book covers subjects like reasons for unhappiness, how to dump negative thinking, dealing with other unhappy people and how to be happy despite the roller coaster of life. Not only does the book provide a map for finding happiness, according Mary Jaksch of GoodLifeZen.com, it is a "valuable blueprint for sustained happiness."
Readers can order the paperback version of Happiness for the Practical Mind, through Amazon for $19.95. A highly rated Kindle edition is available for $2.99. For those without Amazon's signature e-reader, an e-book bundle including a PDF, .mobi and .epub version can be purchased directly through the book's website at bookonhappiness.com. The cost of that bundle is $14.95. Readers may also want to download How to Be Happy by Jared Akers, a free e-book on living happy now.
About Jared Akers
Jared Akers struggled for several years to find his own inner happiness. On his site, he writes that true happiness can never come from an external source. In a culture that values material wealth, titles and outward accomplishment, Akers' points out that it is no wonder so many people are unhappy or struggling with emotional issues like depression or anxiety. Akers has found a new purpose in life: To share seven steps to inner happiness with as many people as he can.
For more information about Akers, visit http://www.JaredAkers.com.