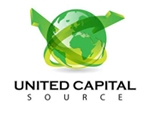 We provide our customers with more flexibility by offering an eighteen month program
Garden City, NY (PRWEB) October 21, 2011
United Capital Source recently implemented a brand new 18-month loan program. The program, which has been in place for a few months now, affords qualified small businesses the ability to pay back loans over a longer period of time.
United Capital Source, founded in January 2011, provides businesses loans and working capital to businesses that have been open for at least a year, and offers a variety of flexible financing options. United Capital Source provides loans to business in all fifty states.
Jared Weitz, founder of United Capital Source, has been extremely pleased with the immediate success of the 18-month program. "Our 18-month program has enabled us to provide funding to more merchants because we are able to extend the payment periods," Jared Weitz of United Capital Source explains, "and because it's a fixed payment, the borrower knows exactly how much is coming in and out of its business on a daily basis."
"While your typical banks in our industry are only offering six to twelve month loan programs," says Jared Weitz of United Capital Source, "we provide our customers with more flexibility by offering an eighteen month program here at United Capital Source."
About United Capital Source, LLC
United Capital Source, located in Rockville Centre, New York, was founded to provide alternative financing products for small businesses. United Capital Source has been serving clients throughout the country through independent agents/brokers, financial institutions, and online. Known for being able to provide funding for bad credit, with United Capital Source there are no personal guarantees or collateral necessary, and there are also no restrictions on how a borrower spends the proceeds, which enables businesses to grow hassle free. For more information, visit http://www.UnitedCapitalSource.com.
Follow us on facebook and twitter:
http://www.facebook.com/JaredWeitz
http://www.twitter.com/jaredweitz
###